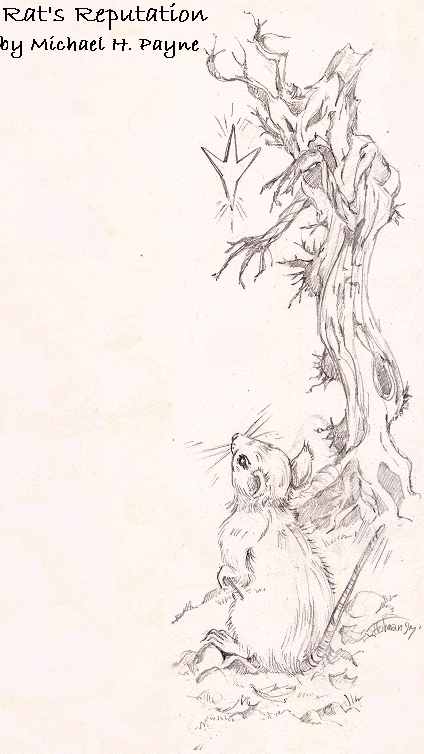 07/11/10 - Part One: "Now, there's those that say this rat came outta the west..."
07/18/10 - Part Two: "Rat brings fire; squirrels bring wood..."
07/25/10 - Part Three: "But whatever horrendous accident of fate it was that threw that rat kit into Raymon Nibbler's path,..."
08/01/10 - Part Four: "Like Rat, alone, in darkness drowned,/I'm rescued by that simplest sound..."
08/08/10 - Part Five: "I've even heard some say that those rat eyes with that look could freeze a hummingbird--bam!--right in place in the middle of the air..."
08/15/10 - Part Six: "It's one and two and three and four:/This dance was never meant for rats!/The snickers I try to ignore/From other couples on the floor,/Those mousey brats/In their silk scarves and bowler hats..."
08/22/10 - Part Seven: "Sources on the docks confirm that the rats were rounded up within minutes of arriving at the warehouse,..."
08/29/10 - Part Eight: "'The way you help, you should change your name to Ratayo!'"
09/05/10 - Part Nine: "'But this isn't good-bye, Ottersgate,' he whispered to the darkness up River. 'You haven't seen the last of this rat!'"
09/12/10 - Part Ten: "But Mean Mr. Rat, well, he never forgets being mad for very long,..."
09/19/10 - postponed till next week due to an overwhelming influx of mucus
09/26/10 - Part Eleven: "Until Rat reaches out, stabs a claw through your snout,/Drags you kicking and screaming through some nightmare seeming/To endlessly drop you and flop you and chop you,/A vision forlorn in a landscape stillborn...."
10/03/10 - Part Twelve: "Lacking eyes, the worm still crawls; a rat, unmindful, rushes in. Boulders drop on every side, and getting crushed is much too easy."
10/10/10 - Part Thirteen: "Whiskers rustled; eyes aglint, a rat face peered up at the panda. 'Call me Tayo, if you must.'"
10/17/10 - Part Fourteen: "Those of you who regularly employ the phrase 'slicker than a rat on wheels' have no idea what you're talking about. Trust me on this."
10/24/10 - Part Fifteen: "Seven years that seem all too short a respite now that that rat has been reported lurking in the woods and in fact the very streets of our town again!"
10/31/10 - Part Sixteen: "Cocooned in fur,/A rat, but wrapped in butterfly silk...."
11/07/10 - Part Seventeen: "'Truth, my friend?' Here, Tayo paused, his whiskers spread, and fixed his eyes upon the priest. 'Truth's a hat, no more, no less.'"
11/14/10 - Part Eighteen: "Tayo, though, he just brushed the dust off his paws and said, 'After all, it's tool use what separates us folk from the brute creatures of the wild, isn't it?'"
11/21/10 - Part Nineteen: "Tongues are wagging and bachelors sighing all over town at the company a certain Mouse Lodge mistress has been keeping of late."
11/28/10 - Part Twenty: "Ratayo Nibbler, Tayo Pastari, the Uncle Rat the kits all watch for: as long as he's with us, we'll have stories to tell about him. And as long as we tell the stories, he'll always be with us."