Protect Your Privacy in the Information Age
Now on every WEDNESDAY afternoon from 5-6 PM LIVE, Pacific Time
on 88.9 FM in Irvine
and WORLDWIDE live audio streaming at www.kuci.org
Call in during the show: 949-UCI-KUCI OR 949-824-5824
2005 Interviews
GO TO TOP
Dec 28, Violet Woodhouse - Author, Educator, Speaker and Attorney

Violet P. Woodhouse, one of the leading authorities on divorce, is an author, educator, speaker and attorney. A skillful trial attorney, negotiator and one of the nation's top financial advisors, Ms. Woodhouse has established an impressive track record for her ability to successfully guide her clients through financially complex divorce issues. She is a Certified Family Law Specialist conferred by the State Bar of California Board of Legal Specialization and a Certified Financial Planner and Registered Investment Advisor. As a result of her unique professional blend, she has earned a stellar reputation as a distinguished attorney.

Ms. Woodhouse has significant expertise in taxation of income and assets, valuation of businesses, retirement plans, annuities, cash value insurance, investments, real estate cash flow and debt analysis, and employee benefits like qualified and non-qualified executive and employer deferred compensation plans, stock options, and management of risk in divorce division decisions. She also has in-depth knowledge concerning support and custody issues.

Ms. Woodhouse earned her Juris Doctorate from Western State University College of Law where she was awarded the American Jurisprudence Award in Professional Responsibility and won Best Brief in Moot Court competition. Ms. Woodhouse is admitted to practice law in the State of California and before the United States District Court. She is a member of the State Bar of California and the American Bar Association. Ms. Woodhouse is also a member of the Professionalism & Ethics Committee of the Orange County Bar Association, and the association's Family Law and Tax Law Sections. Ms. Woodhouse is also a regular speaker for the OCBA, and serves as a Judge Pro Tem for Orange County's Family Law Court.

A member of the Institute of Certified Financial Planners, Ms. Woodhouse received her CERTIFIED FINANCIAL PLANNER designation from the College of Financial Planning through the University of Southern California, Financial Planning Program. She was elected to the Orange County Financial Planning Board of Directors and serves as Committee Chair for the Professional Outreach for the Orange County Financial Planning Board. Ms. Woodhouse is an honorary Co-Chair for the Business Advisory Council of the Republican Congressional Committee, she currently sits on the Editorial Advisory Board of Physician's Financial News, and she is a member of the Advisory Board of the Community Foundation of the Jewish Federation of Orange County.

Ms. Woodhouse shares her expertise in financial decision making during divorce in her Nolo Press bestseller Divorce & Money: How to Make the Best Financial Decisions During Divorce (sixth edition). New York Newsday named this thorough, step-by-step guide "the most comprehensive financial planning guide for divorcing couples available." In addition, she has been published by the State Bar of California, the Orange County Bar Association, as well as numerous legal newspapers and trade journals. She has also been quoted extensively by such prestigious publications as the Wall Street Journal, New York Times, Working Woman, Lear's, Money Magazine, Kiplinger's Personal Finance Magazine, USA Today, New Choices and the Los Angeles Times. California Super Lawyers Magazine named Ms. Woodhouse a Southern California Super Lawyer for 2004, and one of the top 50 Orange County Lawyers. Ms. Woodhouse is the recipient of the National Leadership Award from the Republican Congressional Committee, and California's 2004 Business Woman of the Year.

Often called upon as a consultant to the media to address issues pertaining to divorce, relationships, marriage and personal finance, Ms. Woodhouse is a frequent guest on national radio and television shows. She is also a nationally renowned public speaker, lecturer, and seminar presenter who is in constant demand.

As a recipient of an esteemed Martindale-Hubbell rating, her status as a respected and ethical member of the Bar confirms the high regard fellow attorneys and judges have for Ms. Woodhouse. Naming her one of the top financial advisors in the nation for six consecutive years, prestigious Worth Magazine also continues to recognize her professional accomplishments.

Ms. Woodhouse, accompanied by her staff of highly skilled professionals, provides divorcing clients with specialized legal representation from Violet P. Woodhouse, a Professional Corporation, located in Newport Beach, California. For more information, visit http://www.violetwoodhouse.com/.
---
GO TO TOP
Dec 21, Dian Black - Founder and Director of Calegislation

Dian Black is the founder and director of Calegislation, a Los Angeles/San Diego-based organization with satellite offices in Sacramento and Washington, DC. An advocate for victims of domestic violence for more than twenty years, Dian has drafted a number of bills that are now incorporated in California state laws mandating victims' access to protective services.

She established Calegislation in 1996 to increase public awareness of domestic violence, to develop leadership for victims in communities throughout the state, and ensure broader advocacy for individuals and families whose lives have been impacted by domestic violence. Through Calegislation, Dian continues to shape state legislation and has become a national voice as a representative of California in a network of thousands of organizations dedicated to eliminating domestic violence. Each year, Dian's commitment and vision affects the lives of tens of thousands of victims of violence within their own homes - primarily women and children - who are increasingly able to live safer, more secure lives under California law.
---
GO TO TOP
Dec 14, Joseph Ansanelli - Chairman and CEO of Vontu, Inc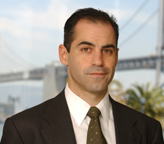 Joseph Ansanelli has testified three times before Congress on protecting consumer privacy and identity theft. His most recent Congressional testimony in March 2005 focused on the issues raised by the ChoicePoint and Lexis Nexis consumer data breaches, in a hearing entitled "Protecting Consumer's Data: Policy Issues Raised by Choice Point". He also testified in 2003 on the topics of "Fighting Identity Theft - The Role of FCRA" and "Cybersecurity & Consumer Data: What's at Risk for the Consumer?" Joseph is founder and CEO of Vontu, which provides data security software to protect confidential data. Prior to founding Vontu, Joseph founded and successfully sold two technology companies, Connectify and Trio. Joseph holds four patents and received a B.S. in Applied Economics from the Wharton School at the University of Pennsylvania.

One California St.
Suite 1500
San Francisco, CA 94111
www.vontu.com
---
GO TO TOP
Dec 7, Lee Tien - Electronic Frontier Foundation

Lee Tien is a Senior Staff Attorney with the Electronic Frontier Foundation, specializing in free speech law, including intersections with intellectual property law and privacy law. Before joining EFF, Lee was a sole practitioner specializing in Freedom of Information Act (FOIA) litigation. Mr. Tien has published articles on children's sexuality and information technology, anonymity, surveillance, and the First Amendment status of publishing computer software. Lee received his undergraduate degree in psychology from Stanford University, where he was very active in journalism at the Stanford Daily. After working as a news reporter at the Tacoma News Tribune for a year, Lee went to law school at Boalt Hall, University of California at Berkeley. Lee also did graduate work in the Program in Jurisprudence and Social Policy at UC-Berkeley.

Electronic Frontier Foundation
www.eff.org
+1 415 436 9333 x102 Lee Tien
Senior Staff Attorney (Privacy, Free Expression & Freedom of Information)
---
GO TO TOP
Nov 30, Jackie Speier - California State Senator
Nov 30, Lenny Goldberg - California Lobbyist
Jackie Speier

Senator Jackie Speier's legacy as a policy-maker and public servant in California for over 25 years is one of leadership, passion and courage. For anyone who has spent any time in the Bay area, you have certainly heard of Jackie Speier and her many accomplishments. Her commitment to public service was forged in tragedy 25 years ago on a remote airstrip in Guyana and continues through today in her dual role as a State Senator and recently named Assistant President Pro-Tem of the California Senate.

Jackie's story and her commitment to public service truly began that day in Guyana in 1978. As many of you may remember, Jackie was a young congressional staff person when she nearly lost her life in an attempt to uncover facts regarding the Reverend Jim Jones and his People's Temple followers in Guyana. Over 900 people died that fateful day including Congressman Leo Ryan and the four other people traveling with them. Jackie was shot five times and left to die. As she has said many times, those 22 hours of waiting for help to arrive alone on the tarmac molded her philosophy, her zest for work and life, and allowed her to see that no one is guaranteed a tomorrow. It is this extraordinary event that has shaped her legislative agenda, her commitment to giving a voice to those who are not heard and her tenacious ability to fight for her constituents and the State of California.

Jackie's uncompromising integrity and leadership have touched the lives of literally millions of Californians over the past 25 years. She has an unprecedented legislative record with over 300 of her bills having been signed into law… by both Democratic and Republican Governors. Her commitment to creating a better government and therefore California have led her to create oversight hearings that have identified waste, illegal activities as well as policy issues throughout California.

Jackie tenacity has allowed her to:

Doggedly pursue corruption at the highest levels. Her persistent hearings into the professional and ethical conduct of the State Insurance Commissioner eventually led to his resignation and to substantial reform.
Win approval, after a four-year battle, to ensure privacy rights for Californians by prohibiting insurers and financial institutions, such as credit card companies, from sharing a customer's personal information with other business concerns unless the customer agreed in writing to allow their information to be shared.
Identify over $200 million in state program savings and take a lead role in uncovering illegal activity and wasteful spending in the California state prison system.
Produce laws that have increased collection of delinquent child support payments and calling for reform on California's shocking, 28% uninsured motorist rate.
Implement consumer laws to protect Californians from misleading internet transactions, travel fraud, telemarketing scams, unfair funeral and cremation practices, illegal stock transactions, faulty credit reports, gender discrimination in pricing of services, and the resale of lemon vehicles.
Make California the first state in the nation to pass along its medication purchasing power in the form of discounts to Medicare seniors and the disabled who lack prescription drug coverage.
Require HMOs to cover the cost of a cancer patient's participation in an approved clinical trial. Creating an organ donor registry to promote life-saving organ donations for the more than 15,000 Californians who are in need of an organ transplant and banning over-the-counter sales of ephedra-based supplements that have been shown to cause cardiac arrest.
Born in San Francisco, Jackie earned a B.A. from the University of California at Davis and graduated from the University of California Hastings College of the Law in 1976. Jackie is mother to Jackson Sierra, age 17, and Stephanie Sierra, age 11. Re-married in September 2001 to Barry Dennis and residing in San Mateo County, Jackie Speier continues to strive to create a better world for all Californians.

Website: http://jackiespeier2006.com
Lenny Goldberg

Sacramento lobbyist Lenny Goldberg has made a career of battling corporate business interests on behalf of the poor, consumers, privacy concerns, children, and union members. His firm, Lenny Goldberg and Associates, lists among its chief clients the California Tax Reform Association, which among other goals wants to remove business properties from the Proposition 13 tax cap protection. (Currently, assessments on either business or residential properties cannot rise more than 2 percent annually unless there is a change of ownership). Goldberg also has worked on behalf of Children Now, most recently as an advocate for reforming child support programs, and for The Utility Reform Network, which represented the interests of small consumers during discussions on electric restructuring. Before starting his lobbying firm, Goldberg was a consultant to the Assembly Human Services Committee and staff director for then-Assemblyman Tom Bates, an Oakland Democrat.

Lenny Goldberg is Executive Director of the California Tax Reform Association (CTRA) and President of Lenny Goldberg and Associates, a public interest economic and political consulting and lobbying firm based in Sacramento. On behalf of CTRA, which he has directed since 1985, he has participated in virtually every major tax policy issue which has faced the state, including rewriting the state spending limit, major tax reform and tax relief efforts, and a wide range of forums, media events, and initiative campaigns related to tax policy.

Mr. Goldberg has been an active participant in front of the legislative tax committees for many years, and writes a weekly report on California tax policy for State Tax Notes. His lobbying has also included active involvement on utility issues for TURN (The Utility Reform Network) and, recently, UCAN (Utility Consumers Action Network), and he played a major role in recent landmark electric restructuring legislation.

Mr. Goldberg's environmental clients have included CalPIRG, for whom he worked on toxics policy, the Monterey Bay Air Pollution Control District, and, recently, the Environmental Health Coalition of San Diego. His firm has also been active on a number of human services issues, for clients such as Children Now, the Family Service Council of California, and the National Association of Social Workers. Mr. Goldberg also lobbies on behalf of the Privacy Rights Clearinghouse for important privacy legislation in California.

Mr. Goldberg has degrees in economics from Williams College and the University of California, Berkeley.

Lenny Goldberg
717 K St., Ste 510
Sacramento, CA 95814
916-446-4300
fax 916-444-6611

---
GO TO TOP
Nov 23, Katherine Albrecht - Director of CASPIAN

Katherine Albrecht is the director of CASPIAN (Consumers Against Supermarket Privacy Invasion and Numbering), an organization she founded in 1999 to advocate free-market, consumer-based solutions to the problem of retail privacy invasion. She is also co-author of the award-winning bestseller "Spychips: How Major Corporations and Government Plan to Track your Every Move with RFID."

Ms. Albrecht is widely recognized as one of the world's leading experts on consumer privacy. She has testified on RFID technology before the Federal Trade Commission, the California state legislature, the European Commission, and the Federal Reserve Bank, and she has given over a thousand television, radio and print interviews to news outlets all over the world. Her efforts have been featured on CNN, NPR, the CBS Evening News, Business Week, and the London Times, to name just a few.

Executive Technology Magazine recently called Katherine "perhaps the country's single most vocal privacy advocate" and Wired magazine calls her the "Erin Brockovich" of RFID. A quote in the Montreal Gazette compared Katherine's consumer work to that of Ralph Nader. Her success exposing corporate misdeeds has earned her accolades from Advertising Age and Business Week and caused pundits to label her a PR genius.

Katherine is a highly sought-after public speaker, informing audiences across Europe and North America with her well-researched, compelling, and often chilling accounts of how retail surveillance technology threatens our privacy. She is a frequent guest on radio programs worldwide, logging over 400 hours of airtime with her proven ability to inform and entertain an audience and generate listener calls.

Katherine graduated magna cum laude with a Bachelor of Science degree in Business Administration with a concentration in International Marketing, and holds a master's degree in Instructional Technology from Harvard University. She is currently completing her Doctorate in Education at Harvard where her research focus is consumer education, privacy and psychology.

What the media has to say about Katherine Albrecht's consumer privacy work:

Katherine Albrecht "is possibly the country's single most vocal privacy advocate and staunchest opponent of technologies that track consumers and their buying habits."
- Executive Technology Magazine

"[Katherine Albrecht leads] a group of activists who have taken on some of the world's biggest corporations and seemingly forced them into humiliating retreat."
- The Times of London

http://www.spychips.com/katherine-albrecht.html

(877) 287-5854
---
GO TO TOP
Nov 16, Lori Campbell - Victim Of Criminal Identity Theft
Nov 16, Ray Lorenzo - Victim Of Criminal Identity Theft
Lori Campbell

Lori Campbell was born in Queens New York. She has always had an enduring spirit, which she attributes to being a native New Yorker. She attended community college. Not able to qualify for financial aid, she worked full time to pay her tuition. Lori joined the army with specific goals in mind. One of those goals was to purchase a home. She closed on her house within a year. She continued to pursue her education while in the military. While stationed in Germany, her unit was deployed to Bosnia. Children chased the military vehicles begging for food. There was no heat, or running water for most of them. While viewing the condition these children were living in, she made the decision to be in a position to help others.

She earned an honorable discharge with a disability from the Army 6 1/2 years later. Lori was now able to focus on her education. She enrolled in a four year university in Georgia. Choosing a service profession was easy for her because people have always been her inspiration.

Her goal is to obtain her doctorate in Social work so she can be professionally equipped to work closely with the emotional complexities of people who need her help. Right now she is experiencing the dark night of her soul.

As a victim of criminal identity theft - she was convicted of a crime that she was perpetrated by an impostor. Luckily, due to legal help at the right time, she was sentenced to probation- but a heavy fine and a criminal felony record that will scar her for life and ruin her dream of a career if she cannot get a new trial. She is living a nightmare that seems incomprehensible. She is appealing the conviction and hopes that by sharing her story, she will help people to understand that what happened to her can happen to anyone. She hopes her story will inspire you- and help her to get help as well.
GO TO TOP
Ray Lorenzo

Ray is a 37 year old single father of 3 children. As a result of the trauma of his identity theft by a felon, he has recently experienced the tragic break up of his marriage. Additionally, due to his criminal ID theft, he is financially strapped and lives in a single wide mobile home owned and financially supported by his family. He has actively and unsuccessfully been seeking employment for the last 4 years. Ray had grown up in New York, but has recently moved to Florida. Since moving to Florida he has returned to school and obtained his second AAS degree and is presently working on his B.A. in the I.T. field using student loans. He found out that he has been unable to get a job due to the fraudulent felony record in his name. He is unable to obtain a position in the computer field due to security background checks that falsely tell potential employers that he is a convicted dangerous felon. Today, he is unable to provide for himself and his children and he is living a nightmare of identity theft. He is a loving dad and son and wants to expose what has happened to him so that others can avoid this. He has dreams of establishing a computer career that can help others so their lives are not ruined by the vast erroneous databases. The audio interview tells the story of what happened to him. He is appreciative of your willingness to listen to this horror story.
---
GO TO TOP
Nov 09, Peter Swire - Professor of Law and Consultant, privacy and cybersecurity

Peter P. Swire is Professor of Law and John Glenn Scholar of Public Policy Research at the Moritz College of Law of the Ohio State University. He lives in the Washington, D.C. area, teaches in Ohio during the fall semester, and is Director of the law school's Washington, D.C. summer program. He serves as a consultant to the law firm of Morrison & Foerster LLP, with a focus on privacy and cybersecurity issues.

During the fall of 2005, Professor Swire is on sabbatical from Ohio State. For 2005-2006, he is a Visiting Senior Fellow at the Center for American Progress in Washington, D.C.

From 1999 until January, 2001 Professor Swire served as the Clinton Administration's Chief Counselor for Privacy, in the U.S. Office of Management and Budget. In that position, he coordinated Administration policy on the use of personal information in the public and private sectors. He was White House coordinator for the proposed and final HIPAA medical privacy rules, and played a leading role on topics including financial privacy, Internet privacy, encryption, public records and privacy, e-commerce policy, and computer security and privacy.

Professor Swire co-authored the book None of Your Business: World Data Flows, Electronic Commerce, and the European Privacy Directive, which was published by Brookings in 1998. He has published extensively and is quoted frequently in the national and international press. Many of his writings appear at www.peterswire.net. With Lawrence Lessig, he serves as Editor of the Cyberspace Law Abstracts of the Social Science Research Network.

Professor Swire graduated summa cum laude from Princeton University and in law school was a Senior Editor of the Yale Law Journal. He received a Rotary Fellowship to study European Community Law in Brussels in 1981-82 and clerked for Judge Ralph K. Winter, Jr., of the Second Circuit. He practiced in the Washington office of Powell, Goldstein, Frazer & Murphy from 1986 to 1990 before entering law teaching.
---
GO TO TOP
Nov 02, David Medine - Lawyer, Compliance Law

David Medine, after developing e-commerce and financial services policy at the Federal Trade Commission and The White House, has brought his experience to a wide range of online and offline clients. His government experience has made him a valuable asset to clients, whether it involves defending investigations, advice on legislative strategies, development of privacy and security policies or counsel on regulatory compliance. Mr. Medine's representation of the United States in international organizations, such as the OECD or in negotiations with the European Union, has positioned him well to represent clients wrestling with international data and consumer protection issues.

Practice

Mr. Medine currently represents major online companies, media firms and consumer product companies regarding compliance with federal and state consumer protection and privacy laws and regulations. He also represents a wide range of financial institutions, including banks, insurance companies, credit card issuers and broker-dealers on credit, financial privacy and other issues.

At the FTC, Mr. Medine's responsibilities included the development of policy and regulations, oversight of programs involving consumer financial services, privacy and e-commerce and enforcement activities in those areas. He participated in drafting the Gramm-Leach-Bliley financial privacy and the Children's Online Privacy Protection Act (COPPA) regulations.

In August 2000, Mr. Medine left the FTC to serve as a Senior Advisor to the National Economic Council at The White House, where he advised both the President and the Assistant to the President for Economic Policy, coordinated Administration policies on such issues as privacy, financial institutions and expanding capital investment in under-served areas. He advised government agencies on implementation of electronic signature legislation and represented The White House in congressional consideration of "spam" legislation.

Recent Highlights

Mr. Medine has successfully represented clients under investigation by the Federal Trade Commission and the US Department of Transportation.

He has counseled many companies on compliance with the Fair and Accurate Credit Transactions Act of 2003 (FACTA); the CAN-SPAM Act; Telemarketing Sales Act regulations, including the Do Not Call provisions; and information security requirements, including the FTC financial safeguards rule and the California security breach notification law.

Professional Activities

Mr. Medine has testified before Congress on numerous legislative proposals relating to Internet, privacy and consumer financial issues; he has also been a frequent public speaker on related matters.

Honors and Awards
Selected by peers for inclusion in The Best Lawyers in America 2006, in the area of banking law
Recognized in BtoB Magazine's "100 Who's Who in Business to Business"
Named by Credit Today Magazine as one of the 50 most influential people in credit
Selected by Washingtonian magazine as one of the "Top Lawyers" in Washington, 2004


Education
- J.D., University of Chicago Law School, 1978
- B.A., Hampshire College, 1975

Contact Information
1899 Pennsylvania Ave., NW
Washington, DC 20006
tel: +1 (202) 663-6220
fax: +1 (202) 663-6363
www.wilmerhale.com
---
GO TO TOP
Oct 26, Harold Krent - Dean and Professor, Chicago-Kent College of Law

Work Experience
1994 - Present: Professor, Chicago-Kent College of Law
(Associate Dean since 1997; Dean since 2002)

1987 - 1993: Assistant Professor of Law, University of Virginia Law School

1983 - 1987: Attorney, Department of Justice Civil Division, Appellate Staff

1982 - 1983: Law clerk for the Honorable William H. Timbers (2d Cir.)

Education
New York University School of Law (J.D. 1982)

Law Review: Note and Comment Editor Order of the Coif;
Kapelsohn Prize (legal writing in labor law);
Rubin Prize (best law review note in commercial or international law area - 56 N.Y.U. L. Rev. 694);
Cahn Award (superior achievement as Law review editor)

Princeton University (A.B. 1977)

Recent Publications
Presidential Powers (N.Y.U. Press 2005).

The Continuity Principle, Administrative Constraint, and the Fourth Amendment, 81 Notre Dame L. Rev. (2005) (forthcoming).

Conditioning the President's Conditional Pardon Power, 89 Cal. L. Rev. 1665 (2001).

Judging Judging: The Problem of Secondguessing State Judges' Interpretation of State Law in Bush v. Gore, 28 Fla. St. U. L. Rev. 493 (2001) (symposium).

Laidlaw: Redressing the Law of Redressability, 12 Duke Envtl. L. & Pol'y F. 85 (2001) (symposium).

Federal Agency Ombuds: The Costs, Benefits and Countenance of Confidentiality, 52 Admin. L. Rev. 17 (2000).

Monitoring Governmental Disposition of Assets: Regulatory Substitutes for Market Controls, 52 Vand. L. Rev. 1705 (1999) (with Nicholas Zeppos).

How to Move Beyond the Exclusionary Rule: Structuring Judicial Response to Legislative Reform Efforts, 26 Pepp. L. Rev. 855 (1999) (symposium).

The Supreme Court as an Enforcement Agency, 55 Wash. & Lee L. Rev. 1149 (1998).

Should Bouie Be Buoyed?: Judicial Retroactive Lawmaking and the Ex Post Facto Clause, 3 Roger Wms. U. L. Rev. 35 (1998) (symposium).

Reviewing Agency Action for Inconsistency with Prior Rules and Regulations, 72 Chi-Kent L. Rev. 1187 (1997) (symposium).

The Puzzling Boundary Between Criminal and Civil Retroactive Lawmaking, 84 Geo. L. J. 2143 (1996).

Turning Congress Into An Agency: The Propriety of Requiring Legislative Findings, 46 C.W.R.U. L. Rev. 731 (1996) (symposium).

Of Diaries and Data Banks: Use Restrictions Under the Fourth Amendment, 74 Tex. L. Rev. 49 (1995).

Delegation and its Discontents, 94 Colum. L. Rev. 201 (1994) (book review essay).

Fee Shifting Under the Equal Access to Justice Act - A Qualified Success, 11 Yale L. & Pol'y Rev. 458 (1993) (based on 1992 Consultant Report to Administrative Conference of the United States).

Explaining One-Way Fee Shifting, 79 Va. L. Rev. 2039 (1993).

Of Citizen Suits and Citizen Sunstein, 91 Mich. L. Rev. 1793 (1993) (with Ethan Shenkman).

Reconceptualizing Sovereign Immunity, 45 Vand. L. Rev. 1529 (1992).

Preserving Discretion Without Sacrificing Deterrence: Federal Governmental Liability in Tort, 38 UCLA L. Rev. 871 (1991).

Fragmenting the Unitary Executive: Congressional Delegations of Administrative Authority Outside the Federal Government, 85 Nw. U. L. Rev. 62 (1990).

Executive Control Over Criminal Law Enforcement: Some Lessons From History, 38 Am. U. L. Rev. 275 (1989) (symposium).

Separating the Strands in Separation of Powers Controversies, 74 Va. L. Rev. 1253 (1988).

Commentary
Accommodating ALJ Decision Making Independence with Institutional Interests of the Administrative Judiciary, 25 NAALJ 1 (2005) (fellowship paper).

Foreword, The Legacy of Chancellor Kent, 74 Chi-Kent L. Rev.3 (1998).

"Unitary Executive" in Encyclopedia of the American Constitution, Supplement II.

The Fee Shifting Remedy: Panacea or Placebo?, 71 Chi-Kent L. Rev. 415 (1996).

Some Skeptical Thoughts About the Growing Convergence of Public and Private Institutions, 95 APA Newsletter on Philosophy and Law 54 (Fall 1995).

The Failed Promise of Regulatory Variables, 73 Wash. U. L. Q. 1117 (1995).

Avoiding a Mistake with Corrections Day, 17 Legal Times 22 (1995) (with James Rossi).

Anthologizing the Administrative State, 44 J. Leg. Educ. 609 (1994).

Consultant Projects
Administrative Conference of the United States
Attorney Fee Shifting
Government Auctions, Leases, and Sales
Associate Reporter, Restatement of the Administrative Procedure Act
Coalition of Federal Ombuds
Ombuds and Confidentiality
District Attorney's Office (Chicago); Office of Consumer Affairs (Chicago) on Internet Fraud
National Academy of Sciences
Limiting Children's Access to Pornography on the Web
U.S. Department of Justice
Review of Carnivore
World Bank
Albania Legal Information Project
Contact Information (312) 906-5010 (W) e-mail: hkrent@kentlaw.edu
---
GO TO TOP
Oct 19, Larry Ponemon - Chairman, Ponemon Institue
Oct 19, David Bender - Information Technology Attorney
David Bender

Practice and Experience
A privacy, intellectual property and information technology attorney, David Bender has extensive experience in contracting, litigation and counseling. He co-chairs the Privacy Practice Group and has been active in counseling on matters regarding privacy and data protection. He and negotiates and drafts all types of agreements relating to Internet, computer software and hardware matters. He also litigates computer related disputes and directs privacy audits and intellectual property due diligence investigations.

Mr. Bender is the author of Computer Law: Software Protection and Litigation, a four volume treatise, and of a number of law review articles on topics relating to computer, intellectual property and antitrust law. He has published numerous papers in conference handbooks and has been a guest speaker, on privacy and various information technology and intellectual property topics, at more than 200 seminars in the United States and in fifteen other countries. He is also a past president of the Computer Law Association.

Among his recent accomplishments, Mr. Bender headed a worldwide privacy audit for a global travel-related company. He has also represented a venture formed to create an online foreign exchange options system; a major bank in the formation of a joint venture to acquire rights in and exploit certain market trading software; and Aramco in the formation of a joint venture to own and operate refineries and service stations linked by a computer system spanning 23 states. In a federal litigation brought by CIGNA Insurance, Mr. Bender defended Aetna Insurance against allegations of inducing misappropriation of software. He also represented Aetna at the mini trial that ultimately resolved this controversy.

Before joining White & Case, Mr. Bender was General Attorney, Intellectual Property Litigation, for AT&T, where he was responsible for all Intellectual Property suits brought by or against any Bell System company. Prior to that, he was in private practice, concentrating in antitrust litigation.

Bars and Courts
United States Patent and Trademark Office
District of Columbia Bar, admitted 1969
New York State Bar, admitted 1971
United States Courts of Appeals for the Second, Third, Fourth, Fifth, Ninth and Federal Circuits

Education
Sc.B., in Applied Mathematics, Brown University, 1961
J.D., University of Pennsylvania Law School, 1968
LL.M., in Patent Law, George Washington University, 1969
S.J.D., in Computer Law, George Washington University, 1975

White and Case
1155 Avenue of the Americas
New York, NY 10036-2787
(212) 819-8649
www.whitecase.com
---
GO TO TOP
Oct 12, Edward Mierzwinski - U.S. PIRG Consumer Program Director

Ed Mierzwinski has been a consumer advocate with the National Association of State Public Interest Research Groups (U.S. PIRG) since 1989. State PIRGs are non-profit, non-partisan consumer, environmental and good government watchdog groups around the country. He often testifies before Congress and state legislatures and has authored or co-authored numerous reports on consumer issues ranging from the failure of cable television deregulation to privacy, identity theft, bank fees, predatory lending and unfair practices and product safety. He is often quoted in the national press and has appeared on network news shows including NBC Today, CNN Crossfire and ABC Nightline. He has been profiled in the New York Times. He is a 2003 recipient of Privacy International's "Brandeis Award" for privacy protection efforts. He is active in international consumer protection efforts and is a founding member of the Trans Atlantic Consumer Dialogue (www.tacd.org) and represents U.S. PIRG on the TACD Steering Committee.

He is a past member of the boards of several large consumer-owned businesses, including Northeast Cooperatives, a Burlington, VT-based regional food wholesaler, and the University of Connecticut Cooperative Corporation, a student-owned bookstore. From 1981 through 1988, he was Executive Director of Connecticut PIRG. He is a graduate of the University of Connecticut (BA, MS).

Contact Information:
web: www.uspirg.org
E-mail: edm@pirg.org
Phone: (202) 546-9707

Note: Mr. Mierzwinski and other PIRG staff regret we cannot handle individual consumer complaints nor give legal advice. We prefer to receive consumer inquiries by mail or e-mail but cannot guarantee a reply. We are interested in hearing about consumer problems, as they may affect many consumers, and encourage you to post comments or contact us by mail or e-mail.
---
GO TO TOP
Oct 5, California Senator Joe Simitian - 11th Senate District

State Senator Joe Simitian was elected to the California State Senate in November 2004, to represent the 11th Senate District, which includes all or part of 13 cities in San Mateo, Santa Clara and Santa Cruz counties. His public service over the years also includes:


Assemblymember, California State Assembly
County Supervisor, Santa Clara County
Mayor, City of Palo Alto
President, Palo Alto School Board
Regional leadership as President of the Santa Clara County School Boards' Association, President of the League of California Cities Peninsula Division and Chairperson of the Santa Clara County Intergovernmental Council (IGC)
Representative of the President of the United States, 1994 U.S. Delegation to Observe Elections in El Salvador
Elections Supervisor, 1997 and 1998 Bosnian Elections, Seconded by the U.S. Department of State, serving with the Organization for Security and Cooperation in Europe (OSCE)
Volunteer, International Rescue Committee (IRC), 1999 refugee relief and resettlement efforts in Albania and Kosovo
Education
Juris Doctor (Boalt Hall)
University of California, Berkeley
Bachelor of Arts, cum laude
The Colorado College
Master of City Planning
University of California, Berkeley
High School Diploma
Palo Alto High School
Master of Arts, International Policy Studies
Stanford University

Professional
Senator Joe Simitian is an attorney, businessman and city planner. He is a member of the California State Bar and the American Planning Association, and holds an AICP certification from the American Institute of Certified Planners.

Community Service
Current

Co-Chair, Housing Leadership Council, Silicon Valley Manufacturing Group
Board of Directors, American Leadership Forum - Silicon Valley
Board of Advisors, Adolescent Counseling Services
Board of Advisors, Clara-Mateo Alliance, Inc.
Board of Advisors, O'Neill Sea Odyssey
Honorary Council Member, Leadership Mountain View
Advisory Team, San Mateo County Service Learning Project
Trustee Emeritus, Junior Statesmen Foundation
Previous
Board of Directors, Joint Venture: Silicon Valley Network
Steering Committee, Bay Area Council
Member, California UN 50 Committee
Explorer Scouts Advisor, Law Explorer Post #804
North County Allocations Committee, United Way of Santa Clara County
President, Friends of the Children's Theatre
---
GO TO TOP
Sep 28, Rebecca Herold - Consultant, Information privacy, Security, Compliance

Rebecca Herold is an independent information privacy, security and compliance consultant, author and instructor. Rebecca has over 16 years of compliance, privacy and information security experience, and assists organizations of all sizes with their information privacy, security and regulatory compliance programs. She specializes in risk assessment, gap analysis, policy content development, awareness and training, strategy development and implementation. Rebecca is also an adjunct professor for the Norwich University Master of Science in Information Assurance (MSIA) program. Rebecca has a B.S. in Math and Computer Science and an M.A. in Computer Science and Education.

Rebecca is a Certified Information Systems Security Professional (CISSP), a Certified Information Systems Auditor (CISA), a Certified Information Systems Manager (CISM), and a Fellow of the Life Management Institute (FLMI). Rebecca has been a member of the Information Systems Audit and Control Association (ISACA) since 1990 and has held all board positions throughout her membership in the Iowa chapter. Rebecca is a charter member of the Iowa InfraGard chapter that was formed in 2000, and a member of the International Association of Privacy Professionals (IAPP). Rebecca was instrumental in building the information security and privacy program while at Principal Financial Group which was awarded the CSI Outstanding Security Program of the Year Award in 1997.

Prior to owning her own business, Rebecca served in key privacy and security roles at several companies. She was Vice President, Privacy Services and Chief Privacy Officer at DelCreo, Inc. where she created information security and privacy policies, standards and procedures for multiple Fortune 500 organizations. There she developed her Privacy Impact Analysis (PIA) method used by companies to determine gaps in their privacy practices and organization processes.

Prior to DelCreo, Rebecca was Chief Privacy Officer and Senior Security Architect for QinetiQ Trusted Information Management, Inc. (Q-TIM). Prior to joining Q -TIM, Rebecca was the Global Security Practice Central Region Security Subject Matter Expert for 2 years at Netigy, and before that Rebecca was Senior Systems Security Consultant at Principal Financial Group.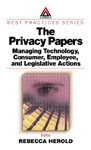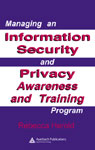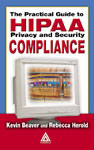 Rebecca authored The Privacy Papers (Auerbach) in 2001, co-authored The Practical Guide to HIPAA Privacy and Security Compliance (Auerbach) in 2003, authored Managing an Information Security and Privacy Awareness and Training Program (CRC Press) published in 2005, and The Privacy Management Toolkit (Information Shield) published in 2005. Rebecca has also authored two e-books through realtimepublishers.com (The Business Executive Practical Guides to Compliance and Security Risks book series and The Definitive Guide to Security Inside the Perimeter), chapters for several books, has written a monthly column in the Computer Security Institute Alert newsletter since late 2000, and writes often for other various publications. Rebecca speaks often at conferences and developed and teaches the two-day Managing a Privacy Governance Program workshop for the Computer Security Institute.

Rebecca can be reached at:
Email: rebeccaherold@rebeccaherold.com,
http://www.rebeccaherold.com,
515.491.1564.
---
GO TO TOP
Sep 20, Robert O'Harrow - Investigative Reporter, Washington Post

As a reporter for the Financial and Investigative staffs of the Washington Post, Robert O'Harrow has carved out data privacy beat and uncovered stories about the use

of information that has led to changes in state and federal law. In 2000, O'Harrow was a finalist for a Pulitzer Prize. He was a recipient of the 2003 Carnegie Mellon Cybersecurity Reporting Award. He is the author of a new book on privacy, "No Place to Hide". During his book tour, he has been interviewed on national television, radio ,and featured in magazines and newspapers. Robert O'Harrow was a finalist for the Pulitzer Prize for the following collection of articles:
Posing a Privacy Problem? Jan. 22, 1999
U.S. Helped Fund Photo Database of Driver IDs Feb. 18, 1999
U.S. to Start Gathering Patient Data March 22, 1999
Under Fire, U.S. Amends Plan to Collect Health Care Data April 1, 1999
Digital-Age Snoops Hire Lobbyist, Make Headway on Hill April 17, 1999
Survey Says: You're Not Anonymous June 9, 1999
Uncle Sam Has All Your Numbers June 27, 1999
Justice Dept. Pushes For Power to Unlock PC Security Systems August 20, 1999
Senate Passes Bill On Drivers' Records Oct. 5, 1999
Unlisted Numbers Not Protected From Marketers Dec. 19, 1999
---
GO TO TOP
Sep 13, Evan D. Hendricks - Editor/Publisher of Privacy Times

Professional Activities

1981- Present Editor/Publisher of Privacy Times

Since 1981, I have been Editor/Publisher of Privacy Times, a biweekly, Washington-based newsletter that reports on privacy and information law, including the Fair Credit Reporting Act (FCRA). The newsletter ranges from 8-12 pages, 23 issues per year. Thus, I have researched, written, edited and published many articles on Congressional and State legislative actions, judicial opinions, industry trends and actions, executive branch policies and consumer news as they related to the FCRA.

1992 - Present Expert Witness

Qualified by the federal courts in FCRA and identity theft cases. (Complete list attached). I have read extensive deposition testimony by credit bureau and credit grantor personnel. This is significant because CRAs and credit grantors do not openly discuss or publish information on their procedures and practices for handling personal data, and the best (and possibly only) sources for finding candid descriptions of CRAs' and credit grantors' procedures and practices in relation to credit reporting data are the depositions of CRA and credit grantor employees in FCRA litigation.

1998 - Present Privacy Expert Consultant, U.S. Social Security Administration

Regularly review policies and practices in relation to the collection, use and disclosure of personal data and Social Security numbers and provide feedback and recommendations.

2002 - 2004 Member, Experian Consumer Advisory Council

Along with other Council members, I provide an outsider's view on credit reporting, marketing and other privacy issues.

July - October 2002 Consultant to U.S. Postal Service

Working with the USPS's Chief Privacy Officer, I assisted in reviewing and editing the re-write of the USPS's Privacy Act notices, with an emphasis on "Plain English."

Recent Testimony Before Congress & The FTC

"Identity Theft: Recent Developments Involving the Security of Sensitive Consumer Information," Senate Banking Committee, March 15, 2005

"The Accuracy of Credit Report Information and the Fair Credit Reporting Act;" Senate Banking Committee, July 10, 2003

"The Role of FCRA in the Credit Granting Process," House Financial Services Subcommittee on Financial Institutions & Consumer Credit, June 12, 2003

"Database Security: Finding Out When Your Information Has Been Compromised," Senate Judiciary Subcommittee on Technology, Terrorism and Government Information, Nov. 4, 2003

Fighting Fraud: Improving Information Security," House Financial Services Subcommittee on Financial Institutions & Consumer Credit, and Oversight, April 3, 2003

"Information Flows: The Costs and Benefits to Consumers and Businesses of The Collection and Use of Consumer Information," Federal Trade Commission, National Workshop, June 18, 2003

Books



Credit Scores and Credit Reports: How The System Really Works, What You Can Do (Privacy Times, 2004)

Your Right To Privacy: A Basic Guide To Legal Rights In An Information Society (2nd Edition, Southern Illinois University Press, 1990), (Includes a chapter on credit reporting)

Former Secrets: Government Records Made Public Through The Freedom of Information Act (Campaign For Political Rights, 1982)

International Lectures

24th International Conference of Data Protection & Privacy Commissioners (Cardiff, Wales - Presentation published in conference proceedings, 2002)
The 23rd International Conference of Data Protection Commissioners (Paris, La Sorbonne - Presentation published in conference proceedings, 2001)
The 22nd Annual Conference on Data Protection (Venice, Italy -- 2000)
The 16th Annual Conference on Data Protection (The Hague, The Netherlands -- 1994).

In the 1980s, served as an expert consultant to both the Privacy Commissioner of Canada and Privacy Commissioner of Australia.

Presentations/Instruction At Recent CLE & Professional Seminars

"The New FACT Act: Challenge & Opportunity," Privacy & American Business, Feb. 9-10, 2004
"Understanding the FACT Act And The Impact of Multi-Agency Rulewriting Process," Glasser LegalWorks, Sept. 28-29. 2004
"12th Annual National Conference," National Credit Reporting Association, Nov. 10-12, 2004
"Advanced Consumer Litigation," Texas Bar CLE, Feb. 10-11, 2005
"Financial Privacy Litigation," (Impact of FACT Act), Practicing Law Institute, February 28- March 1 (New York City)

Professional Societies

Past President and Board Member, American Society of Access Professionals
www.accesspro.org

Industry Certification

FCRA Certification, National Credit Reporting Association (www.ncrainc.org).

Media

In addition to being a paid consultant and special guest on CNN's IMPACT news in 1996, I am quoted regularly by major and small newspapers (including The Washington Post, New York Times, Wall Street Journal, Chicago Tribune, Los Angeles Times, Newsweek and Money Magazine), regarding issues of privacy generally and the privacy implications of consumer reporting specifically. I have appeared on ABC Nightline and World News Tonight, NBC Nightly News, CBS Evening News, CNN News Watch, CNBC, MSNBC, Fox News, various local affiliates, and such shows as the Oprah Winfrey Show and Geraldo, regarding a wide range of privacy issues.

Education

Bachelor of Arts, Columbia College, Columbia University, New York, N.Y. (1979)

Evan Hendricks P.O. Box 302
Cabin John, MD 20818
(301) 229 7002
(301) 229 8011 [fax)
www.privacytimes.com
---
GO TO TOP
Sep 6, Daniel J. Solove - Associate Professor of law at George Washington Univ. Law School

Professor Solove is an associate professor of law at the George Washington University Law School.

He received his A.B. in English Literature from Washington University, where he was an early selection for Phi Beta Kappa, and his J.D. from Yale Law School. At Yale, Professor Solove won the university-wide scholarly writing Field Prize and served as symposium editor of the Yale Law Journal and as an editor of the Yale Journal of Law & the Humanities. Following law school, Professor Solove clerked for The Honorable Stanley Sporkin, U.S. District Court for the District of Columbia. After practicing law as an associate at the firm of Arnold & Porter in Washington, D.C., Professor Solove began a second clerkship with The Honorable Pamela Ann Rymer, U.S. Court of Appeals for the Ninth Circuit.

Professor Solove began teaching at Seton Hall Law School in 2000. In the fall semester of 2003, he was a visiting professor at the George Washington University Law School. He permanently joined the George Washington University Law School faculty in 2004.

Professor Solove writes in the areas of information privacy law, cyberspace law, law and literature, jurisprudence, legal pragmatism, and constitutional theory.

He teaches information privacy law, criminal procedure, criminal law, and law and literature.

An internationally known expert in privacy law, Solove has been interviewed and quoted by the media in over 100 articles and broadcasts, including the New York Times, Washington Post, Chicago Tribune, Toronto Star, Associated Press, ABC News, CBS News, NBC News, CNN, and National Public Radio.



Professor Solove recently published a new book, THE DIGITAL PERSON: TECHNOLOGY AND PRIVACY IN THE INFORMATION AGE (NYU Press, December 2004), which distinguished Berkeley Law School Professor Pamela Samuelson calls "the best exposition thus far about the threat that computer databases containing personal data about millions of Americans poses for information privacy." The book was recommended in the Wall Street Journal's Recommended Reading column in July 2005.



Additionally, Solove also authored a casebook, INFORMATION PRIVACY LAW (Aspen, January 2003) (with Marc Rotenberg).

Solove has published about 20 articles and essays, which have appeared or are forthcoming in many of the leading law reviews, including the Stanford Law Review, Yale Law Journal, California Law Review, University of Pennsylvania Law Review, Michigan Law Review, Duke Law Journal, Minnesota Law Review, and Southern California Law Review, among others.

He serves on the advisory board of the Electronic Privacy Information Center and is the president of the Law and Humanities Institute. He has contributed to several amicus briefs before the U.S. Supreme Court.

Daniel J. Solove
Associate Professor of Law
George Washington University Law School
2000 H Street, NW
Washington, DC 20052
(202) 994-9514

Website: http://www.law.gwu.edu/facweb/dsolove/
---
GO TO TOP
Aug 30, Twila Brase - President, Citizens' Council on Health Care
Aug 30, James C. Pyles - Attorney, specializing in Health Law
Twila Brase

POSITIONS: As president of the independent non-profit free-market, national health care policy organization, Citizens' Council on Health Care (CCHC), Twila Brase also represents patients and citizens as a board member of the Patient Safety Institute. She is also an advisor to LifeSharers, an innovative organ donation initiative based in Missouri. In 2000, the Minnesota Physician magazine selected her as one of "Minnesota's 100 Most Influential Health Care Leaders."

Ms. Brase's recent activities include authoring a extensively-documented report challenging "evidence-based medicine" (How Technocrats are Taking Over the Practice of Medicine: A Wake-up Call to the American People, January 2005), planning and moderating health care policy events, most recently one on Health Savings Accounts, being interviewed by NBC Nightly News, and eliciting the public's concerns about health care during a weekly "Patient's Perspective" program on WCCO Radio that ran January - February 2004.

Ms. Brase has provided presentations in and outside of Minnesota, for groups as diverse as the Washington Policy Center's annual health care event (Seattle, WA), the American Legislative Exchange Council's 32nd annual meeting (Dallas, TX), Minnesota Biosciences Council, the State Policy Network (Boston and Austin, TX) Solucient (New Orleans); the North Dakota Attorney General's summit on Privacy and Cypercrime (Fargo); the Texas Medical Association (San Antonio), the Institute for Health Freedom (Washington, D.C.) and the South Carolina Medical Society (Charleston, SC). Ms. Brase also served as an invited panelist for the National Committee on Vital Statistics's only public hearing on the National Unique Patient Identifier, Chicago.

She has been interviewed by news organizations including CNN, KARE-TV, KSTP-TV, Minnesota Public Radio, NBC Nightly News, NPR and WCCO-TV. Her comments have been seen in Associated Press, Forbes, MSNBC, Managed Care Interface Magazine, Medical Economics, Star Tribune, Time, UPI and USA Today. Her article "Blame Congress for HMOs" was placed into the Congressional Record on February 27, 2001.

Ms. Brase holds a Bachelor degree in Nursing from Gustavus Adolphus College, and is a certified public health nurse. Besides her position at CCHC, her career has included pediatric emergency room nursing at St. Paul Children's Hospital and school nursing in the St. Paul and Robbinsdale school districts of Minnesota. She resides in St. Paul, Minnesota.

Citizens' Council on Health Care
1954 University Ave. W, Ste. 8
St. Paul, MN 55104
651-646-8935 ph
651-646-0100 fax
http://www.cchconline.org
James C. Pyles

Jim Pyles has practiced health law for nearly 35 years, both with the federal government and in private practice. Mr. Pyles represents hospitals, physicians, psychotherapists, home health agencies, hospices, and companies providing durable medical equipment and infusion therapy in virtually every state and the District of Columbia.

In representing these clients, Mr. Pyles has developed expertise in numerous health law subject areas, including the right to medical privacy and private communications as reflected in the U.S. and many state constitutions as well as federal and state law and traditional standards of medical ethics. As a registered lobbyist, Mr. Pyles has participated directly in issues relating to national health care reform with particular emphasis on medical privacy issues, medical ethics as well as payment and coverage reform.

Mr. Pyles is frequently asked to lecture on health law and medical privacy issues, has appeared on most of the major television news networks, NPR and other radio networks, and has had articles published in the major health and law periodicals including Modern Healthcare magazine and Legal Times. He is often consulted and quoted by major publications on issues of health law and lobbying, including, most recently, The New York Times. He also serves as counsel on privacy issues for the American Psychoanalytic Association and is lead counsel in Citizens for Health v. Leavitt, a case pending before the United States Court of Appeals for the Third Circuit which challenges the validity of the HIPAA Health Information Privacy Rule put into effect by the U.S. Department of Health and Human Services on April 14, 2003.

Mr. Pyles is a graduate of the University of Virginia and received his law degree from the University of Tennessee. He is a member of the American Health Lawyers Association and serves on the Board of the Maryland National Capital Homecare Association. He is a member of the bar in Tennessee, Maryland, and the District of Columbia and is admitted to practice before the Supreme Court of the United States, as well as numerous federal courts of appeals and district courts.

JAMES C. PYLES
Powers, Pyles, Sutter & Verville, P.C.
1875 Eye St., N.W.
12th Floor
Washington, DC 20006
(202) 466-6550
---
GO TO TOP
Aug 23, California Senator Debra Bowen

A lawmaker for more than a decade, Senator Debra Bowen (D-Redondo Beach) continues to focus her attention on helping Californians improve their quality of life. Giving people tools to protect their privacy and their pocketbook, investing in California's natural resources and its children, and helping people gain access to and make sense of state government are the underlying themes that sum up Senator Bowen's overall approach to being a state lawmaker.

Born in Rockford, Illinois, Bowen graduated from Michigan State University in 1976 and earned her law degree from the University of Virginia in 1979. In 1984, she started her own California law firm specializing in small business start-ups, tax law, land use, and environmental issues, while her long history of community activism began when she got involved with her local Neighborhood Watch program. Bowen was elected to represent the 53rd Assembly District in 1992 and was re-elected in 1994 and 1996 before being elected to represent the 28th Senate District in 1998. Bowen was re-elected to her second and final four-year Senate term in 2002, representing the reapportioned 28th District which stretches from Venice in the north, down the coast to Redondo Beach, then east to include all or parts of Carson, San Pedro, Long Beach, and Wilmington.

During her time in office, Senator Bowen has focused her attention on:


Opening Government To The People - Bowen's AB 1624 (1993) unlocked the Legislature's computer files and has given computer users worldwide Internet access to information about bills, committee analyses, legislators' voting records, and much more. Her AB 1577 (1995) created the "California Digital Signature Act," the nation's first law to allow state agencies to use digital signatures and basic encryption procedures to streamline government services. Her AB 179 (1997) and SB 1065 (1999) to give people electronic access to California's public records were vetoed, but Californians gained that right in 2000 thanks to AB 2799 (Shelley-Bowen). Meanwhile, Bowen's SB 1753 (2002) requires the state's Independent System Operator to open its meetings and records to people interested in following the actions of this energy-related agency.



Helping Californians Protect Their Privacy - Bowen's landmark, first-in-the-nation SB 168 (2001) makes it much more difficult for criminals to commit identity theft. First, the law prevents companies from using Social Security numbers as public identifiers. Second, it gives people the right to freeze access to their credit reports, making it much harder for identity thieves to get loans, credit cards, and services in their name. Her SB 25 (2003) extended those Social Security number restrictions to public colleges and government agencies and required credit issuers to honor the fraud alerts people place on their credit reports. Her SB 1016 (1999), SB 1822 (2000), and SB 147 (2001) - all of which were vetoed by the Governor - would have required employers to tell workers about the company's email and Internet monitoring policies. However, Bowen's SB 1090 (2001) to prevent satellite television companies from secretly tracking and selling data on what people watch on television and her SB 1765 (2002) to prevent companies from misleading consumers into believing they have to turn in so-called "warranty cards" in order to make a product's warranty effective, did become law.



Protecting California Consumers - Bowen's SB 772 (2002) required Internet service providers to give people 30 days notice before cutting off their service, while her SB 1872 (2002) required companies to issue refunds to people within a week of returning items purchased over the Internet. AB 1676 (1998) gave people the ability to fight back against unsolicited e-mail ads, better known as "spam," while her SB 1358 (which became AB 2944) (2002) made it illegal to send fax advertisements to people without their permission. AB 1994 (1998) created landmark disclosure and service requirements for pre-paid phone card companies to let consumers know what they're paying for before they buy a card. Her SB 932 (1999) to enact "The Telephone Consumers' Bill of Rights" was defeated in the Legislature, but her SB 1741 (2000) requiring the state to create new area codes for the convenience of telephone users, not telephone companies, did become law. Under her SB 189 (2001), potential renters and homebuyers will be notified if they're planning to move into a home that once housed a methamphetamine lab, while Bowen's SB 521 (2003) required the Office of Ratepayer Advocate to give priority to the concerns of residential and small business customers when dealing with electricity rate issues.



Protecting California's Environment & Energy Resources - A leader in the fight to care for and invest in California's precious environmental landscape, Bowen chaired the Assembly Natural Resources Committee during the 1997-98 legislative session. Her AB 2439 (1998) to protect drinking water supplies from the pollution created by two-stroke marine engines failed to pass the Legislature, but it drove the state Air Resources Board to adopt similar protections. SB 666 (2003) transferred 64 acres of sensitive wetlands habitat area in Los Angeles County to the state in order to protect it from development. As the chairwoman of the Senate Energy, Utilities & Communications Committee, her SB 1298 (2000) required the Air Resources Board to adopt strict emissions standards for small, on-site power plants, known as distributed generation facilities. While her AB 2432 (1998), SB 280 (2000), and SB 1085 (2001) to require the state to build energy efficient buildings to save energy and taxpayer dollars didn't become law, her fight for energy conservation programs in 2001 helped Californians reduce their energy usage, save money, and avoid rolling blackouts during the state's energy crisis. Bowen's SB 1790 (2002) required the Public Utilities Commission to create an air conditioner cycling program to help people save energy, while her SB 1143 (2002) sought to require the California Energy Commission to significantly increase the amount of renewable electrical power generated in the state.



Protecting California's Women & Children - Bowen's SB 543 (1999) requires counties to maintain up-to-date health and education records for foster children and eliminates the ability of a non-custodial parent to decide whether a child should receive psychotropic medications while in foster care. Her SB 1089 (1999) required the Department of Social Services to develop a training program on Post Traumatic Stress Disorder for social workers, teachers, law enforcement officials, and others who regularly work with foster children. Bowen's SB 1611 (2000) makes it easier for county juvenile justice commissions to identify abuse and neglect in children's group homes, while her SB 140 (2001) protects children and the elderly from becoming victims of financial abuse and losing their estates to unscrupulous guardians and conservators. Her SB 1080 (2001) penalizes health care providers who don't give women information on how to detect gynecological cancers - information designed to help women who have cancer get diagnosed and treated as quickly as possible. Bowen's SB 969 (2003) ensured people handing out telephone medical advice are licensed to give it, while her SB 932 (2003) prevents non-profit hospitals from imposing restrictions on or limiting the types of services a new owner of the facility can provide.
Senator Bowen is the chairwoman of the Senate Elections, Reapportionment & Constitutional Amendments Committee and serves on the Energy, Utilities & Communications; Government Modernization, Efficiency & Accountability; Natural Resources & Water; Revenue & Taxation; and Rules committees.
---
GO TO TOP
Aug 16, Jerry Coleman - Assistant DA for City and County of San Francisco
Aug 16, Jim Dowling - Assitant Vice President, Fraud Investigation
Jerry Coleman

Jerry Coleman has been an Assistant District Attorney for the City and County of SF since 1979. He currently is the Managing Attorney for their Career Criminal Program, the Grand Jury's Legal Advisor, the Office's Coordinator of Attorney Training, and its Legislative Liaison. When he is not wearing one of the above 4 hats at work, he is a frequent lecturer for the California District Attorney's Association (CDAA), since 1988, on topics too numerous to mention. When not speaking for organized CDAA seminars, he rides circuit to individual DA's offices to speak on Grand Jury practice, identity theft, proving paper crimes, the high tech courtroom, and ethical jury selection. His solo venues include San Diego, Riverside, LA, Monterey, Santa Clara, San Mateo, Alameda (on video), Contra Costa, and Sonoma. He is the chair of CDAA's Publications Committee, and writes a monthly column for their practical journal, Did You Know. He's also a frequent contributor for the more scholarly Prosecutor's Brief, and authored a recent monograph. Jerry's also been an active member of CDAA's legislation committee, and has helped draft new laws, and testified for (or against) bills in Sacramento, including being called as an expert witness on identity theft by the Assembly's Banking & Finance Committee last spring, and as an expert panelist on the Governor's Identity Theft Summit in Sacramento last March.
Jim Dowling

Jim started his law enforcement career with the El Segundo Police Department where he spent nearly two years as a patrol officer and field training officer. He transferred to the Huntington Beach Police Department in December of 1972.

During Jim's thirty one year tenure with the Huntington Beach Police Department, he had the opportunity to work a wide variety of assignments that included undercover special enforcement on the beach, helicopter observer, motorcycle officer, traffic accident investigator, field training officer, and as a detective for sixteen and a half years.

During his time as a detective, Jim had the opportunity to work many interesting assignments which included juvenile crimes, assaults, robberies, burglaries, and child abuse. For the last seven years of his career, Jim worked as a Major Fraud Detective. As a Fraud Detective, Jim worked many facets of economic crimes and developed expertise in the newly emerging crime of identity theft (With Mari's assistance) back in 1996.

Jim received a Bachelor of Arts Degree in Public Safety Management from the University of Redlands in 1978.

Jim retired as a Detective from the Huntington Beach Police Department after nearly thirty three years in law enforcement, in December of 2003.

Jim currently is an Assistant Vice President - Senior Investigator, with a large regional bank based in California. Jim's primary duties with the bank are to assist customers that have been victimized by identity theft and to monitor and investigate "phishing" attacks against the bank. Jim has worked as a bank investigator since his "retirement" from law enforcement in December of 2003.

Jim's hobby involves polishing and riding his 1300 cc sport touring motorcycle (Much to his wife's chagrin).

Jim resides in Huntington Beach with his wife (A flight attendant for a major airline), a chocolate Labrador Retriever and three cats.
---
GO TO TOP
Aug 9, Larry Ponemon - CEO of the Ponemon Institute
Aug 9, Trevor Hughes - Executive Director of the International Association of Privacy Officers
Larry Ponemon

Dr. Lawrence A. Ponemon is the Chairman and Founder of the Ponemon Institute, a research think tank dedicated to advancing privacy and data protection practices. Dr. Ponemon is considered a pioneer in privacy risk management and the development of the Responsible Information Management or RIM framework.

Ponemon Institute conducts independent research, educates leaders from the private and public sectors and verifies the privacy and data protection practices of organizations in a various industries. In addition to Institute activities, Dr. Ponemon is an adjunct professor for information ethics and privacy at Carnegie Mellon University's CIO Institute and is faculty of CyLab. He serves on the Unisys Corporation's Security Leadership Institute Board and the IBM Privacy Management Council.

Dr. Ponemon is a member of the National Board of Advisors of the Eller College of Business and Public Administration, University of Arizona. He serves on the Government Policy Advisory Committee and Co-Chair of the Internet Task Force for the Council of American Survey and Research Organizations (CASRO).

Dr. Ponemon consults with leading multinational organizations on global privacy management programs. He has extensive knowledge of regulatory frameworks for managing privacy and data security including health care, pharmaceutical, financial services, telecom and Internet. Dr. Ponemon was appointed to the Advisory Committee for Privacy for the United States Federal Trade Commission. He was also an appointed to two California State task forces on privacy and data security laws. Dr. Ponemon was recently appointed by the Governor of Arizona to serve as public member of State Board of Optometry.

Dr. Ponemon was CEO of a privacy and data security services firm and was global managing partner of PricewaterhouseCoopers (where he founded the firm's privacy practice). Prior to Price Waterhouse, Dr. Ponemon served as the National Director of Business Ethics Services for KPMG Peat Marwick, and was appointed Executive Director of the KPMG Business Ethics Institute.

Dr. Ponemon has held chaired faculty positions at Babson College and SUNY Binghamton and published more than 60 articles and five learned books. He has made more than 500 presentations at national or international conferences on privacy, data protection, information security, corporate governance, and responsible information management. Dr. Ponemon is an active member of the International Association of Privacy Professionals, serving the association as its research partner and founding member of the Certified Information Privacy Professional (CIPP) Advisory Board.

Dr. Ponemon is column editor for Darwin Magazine, Computerworld, Privacy 1to1 and other leading business publications on the topic of privacy, data security and information ethics. He is a frequent media commentator on privacy and other business ethics topics for CNN, Fox News, CBS, CNBC, MSNBC, The Wall Street Journal, New York Times, Washington Post, USA Today, Financial Times, Business 2.0, Newsweek, Business Week, U.S. News & World Report, Computerworld, CIO Magazine, Industry Standard, Boston Globe, InfoWorld, InformationWeek, Forbes, Fortune, CFO Magazine, Red Herring, Dow Jones News and others.

Dr. Ponemon earned his Ph.D. at Union College in Schenectady, New York. He has a Master's degree from Harvard University, Cambridge, Massachusetts, and attended the doctoral program in system sciences at Carnegie Mellon University, Pittsburgh, Pennsylvania. Dr. Ponemon earned his Bachelors with Highest Distinction from the University of Arizona, Tucson, Arizona.
J. Trevor Hughes, Esq., CIPP

J. Trevor Hughes is an attorney specializing in ecommerce, privacy and technology law. Hughes serves as the Executive Director of the Network Advertising Initiative (the NAI) and the International Association of Privacy Professionals (the IAPP). In his role with the NAI, Hughes leads the NAI's efforts to create manageable standards for industry at the intersection of privacy and technology. He leads the NAI's Email Service Provider Coalition, an organization that is dedicated to developing technological and public policy tools to reduce spam and protect legitimate email. In his role with the IAPP, Hughes leads the world's largest association of privacy professionals.

Hughes has provided testimony before the US Congress Commerce Committee, the Senate Commerce Committee, the Federal Trade Commission, and the EU Parliament on issues of privacy, spam and privacy sensitive technologies. He is a member of the first class of Certified Information Privacy Professionals (CIPP) and is currently working with co-author Reed Freeman on "Consumer Privacy Law", to be published by CCH in 2006.

Prior to entering private practice, Hughes served as director of privacy and corporate counsel for Engage, a leading online media and software company. Before that, Hughes worked as corporate counsel for UnumProvident, where he focused on legal issues associated with advertising and online insurance transactions.

Hughes has lectured on privacy and ecommerce law at Boston College Law School, the University of Maine School of Law and Northeastern University. He is also a frequent speaker on these issues at conferences around the world. Hughes has been featured on National Public Radio's "Morning Edition", the PBS "Nightly Business Report", and in the New York Times, Wall Street Journal, Forbes, PC World, Washington Post, Boston Globe, and Business Week.

Hughes also has significant experience as a media official at the 1994 World Cup, 1996 Olympics and the 1999 Women's World Cup. A native of Canada, Hughes holds a Bachelor of Arts degree in political science from the University of Massachusetts and a Juris Doctorate from the University of Maine School of Law.
---
GO TO TOP
Aug 2, Beth Givens - Director of the Privacy Rights Clearing House

Beth Givens is founder and director of the Privacy Rights Clearinghouse (PRC), a nonprofit advocacy, research, and consumer education program located in San Diego, California. The PRC was established in 1992 with funding from the California Public Utilities Commission's Telecommunications Education Trust. It is an independent program of the Utility Consumers' Action Network, a nonprofit organization that advocates for consumers' interests regarding telecommunications, energy and the Internet.

The PRC maintains a complaint/information hotline on informational privacy issues, the only one of its kind in the country. It publishes a series of guides on informational privacy issues. Topics include Internet privacy, wireless communications, credit reporting, identity theft, telemarketing, medical records, workplace privacy, employment screening, unsolicited mail, government records, children's online privacy, among others. These are available at the PRC's web site, www.privacyrights.org.
Givens frequently speaks and conducts workshops on the issue of privacy. She has participated in many media interviews including: The News Hour with Jim Lehrer (PBS), CBS Evening News, CNN, 60 Minutes, 48 Hours, Good Morning America, Court TV, NBC Evening News, CBS Weekend News, and major U.S. daily newspapers. She has testified on privacy public policy concerns before the U.S. Senate, the California Legislature, the California Public Utilities Commission, the Federal Trade Commission, the National Telecommunications and Information Administration, and the U.S. Comptroller of the Currency.
In addition, Givens has been a member of several task forces examining privacy-related public policy issues:: California Office of Privacy Protection Advisory Committee; Truste Wireless Privacy Committee; Justice Management Institute's Electronic Court Records Advisory Committee; Task Force on Criminal Records Identity Theft; California Legislature's Joint Task Force on Personal Information and Privacy; California Judicial Council Subcommittee on Privacy and Access; Internet Policy Committee of the San Diego Public Library; and the Mayor of San Diego's City of the Future Task Force. She has served on the U.S. Census Advisory Committee. Many of Givens' speeches and testimony are available on the PRC Web site under "Speeches&Testimony," www.privacyrights.org/ar.
Givens was awarded a Pioneer Award in 2002 from the Electronic Frontier Foundations. The Privacy Rights Clearinghouse is a 2000 award recipient from The Foundation for Improvement of Justice for its work in assisting victims of identity theft. Givens is a recipient of the 2000 Privacy International Brandeis Award.
Givens contributed articles on identity theft to two encyclopedias: World Book (2004) and Encyclopedia of Crime and Punishment (2002). She is the author of The Privacy Rights Handbook: How to Take Control of Your Personal Information (Avon Books, 1997). She is co-author of Privacy Piracy: A Guide to Protecting Yourself from Identity Theft. Givens is also co-author and editor of the PRC's fact sheets, on the Web at www.privacyrights.org/fs.
Givens holds a master's degree in communications management from the Annenberg School for Communication, University of Southern California (1987). She has a background in library and information services, with experience in online research services and library network development (M.L.S., University of Denver, 1975).
Beth Givens
Privacy Rights Clearinghouse
Director and Founder
Web:www.privacyrights.org.
3100 - 5th Ave. Suite B, San Diego, CA 92103
Voice: 619-298-3396 Fax: 619-298-5681
Email: bgivens@privacyrights.org
---
GO TO TOP
July 26, Robert Ellis Smith - Publisher, Privacy Journal and Author

Robert Ellis Smith is a journalist who uses his training as an attorney to report on the individual's right to privacy. Since 1974, he has published Privacy Journal, a monthly newsletter on privacy in a computer age based in Providence, R.I.

Smith is a frequent speaker, writer, and Congressional witness on privacy issues and has compiled a clearinghouse of information on the subject: computer data banks, credit and medical records, the Internet, electronic surveillance, the law of privacy, and physical and psychological privacy.

Smith is the author of Ben Franklin's Web Site: Privacy and Curiosity from Plymouth Rock to the Internet (Spring 2000), the first and only published history of privacy in the U.S. He is also the author of Our Vanishing Privacy (1993), The Law of Privacy Explained (1993), Privacy: How to Protect What's Left of It; Workrights, a book describing individual rights in the work place; and The Big Brother Book of Lists. Privacy Journal also publishes Compilation of State and Federal Privacy Laws, Celebrities and Privacy, and War Stories, a collection of anecdotes on privacy invasions.

The New York Times said Smith "sounds the alarm about maintaining freedom and privacy in the computer age" and called him "a principled critic." Privacy Journal is "a privacy watchdog," according to Time, and "the paper of record for lawyers and others interested in privacy rights," according to U.S. News and World Report.

Smith, 64, has been asked to write the definitive statement on privacy in the last two editions of The World Book Encyclopedia. He has appeared on all three network morning news programs, as well as "Face the Nation," "Nightline," and "All Things Considered." He has been a regular commentator on "Marketplace" on American Public Radio.

From 1970 to 1973, Smith was the assistant director of the Office for Civil Rights in the U.S. Department of Health, Education, and Welfare. Prior to that, he had nine years of experience as a news reporter and editor with the Detroit Free Press, Trenton Times, The Southern Courier, and Newsday.

A 1962 graduate of Harvard College, Smith received his law degree from the Georgetown University Law Center in 1976. He served as a member of the District of Columbia Human Rights Commission until 1986. In 1997, Vice President Gore named him to the Civil Liberties Panel of the White House Commission on Aviation Safety and Security. From 1996 to 2002, he served as vice chair of the Coastal Resources Management Council, which protects the 400 miles of Rhode Island coastline. In 2004 he was elected to the Town Council of Block Island, R.I.
---
GO TO TOP
July 19, Chris Hoofnagle, Esq.- West Coast Director, Electronic Privacy Information Center

Chris Jay Hoofnagle is director of EPIC's West Coast Office in San Francisco, California.

He has testified before Congress on privacy and Social Security Numbers, identity theft, and the Fair Credit Reporting Act, and before the Judicial Conference of the U.S. on public records and privacy.

Chris' recent work has focused on financial services privacy, gender and privacy, commercial profiling and telemarketing, commercial data brokers, and the privacy implications of emerging technologies including invasive advertising and Digital Rights Management.

He participated in the Amy Boyer case, where the New Hampshire Supreme Court held that information brokers and private investigators can be liable for the harms caused by selling personal information. His writings on the First Amendment and privacy have appeared in the San Francisco Chronicle, the Knight Ridder News Service, and in law journals at Columbia Law School, Notre Dame Law School, the University of North Carolina School of Law at Chapel Hill, and at the University of Illinois (forthcoming).
---
GO TO TOP
July 12, Charlene Zettel - Director of the California Office of Consumer Affairs
July 12, Joanne McNabb - Director of the California Office of Privacy Protection
Charlene Zettel

Charlene Zettel serves as the Director of the Department of Consumer Affairs for the state of California. She was appointed in March 2004 by Governor Arnold Schwarzenegger, in recognition of her distinguished career in public service as well as her personal commitment to the citizens of this state.

Charlene has served the people of California in many capacities. After many years as a parent volunteer, she was elected to the Poway Unified School District board in 1992 and served in that office for six years. Encouraged by her constituents to seek higher office, Charlene was the first Republican Latina elected to the state legislature, serving two terms in the Assembly.

Among her responsibilities in the Assembly, she served as chairwoman of the Republican Caucus, vice chair of the Assembly Committee on Jobs, Economic Development and the Economy, and a member of the Appropriations, Education, Health, Rules, Transportation and Governmental Organization committees.

While a member of the Legislature, Charlene worked tirelessly with senior citizen advocates, District Attorneys and law enforcement to champion laws protecting our seniors. A few of her significant accomplishments are AB 526, which preserved critical testimony of abused elderly victims, AB 2063, which allowed an abuser's prior acts to be admissible in court, determining violent character and AB 1767, which provided protections against computer terrorists.

She also sought to protect our children with the introduction and passage of "Oliver's Law," which provided parents with critical information about licensed day care providers, and AB 1789, which enhanced penalties for child abusers.

As a dedicated member of her community, Charlene has been a board member of the San Diego Regional Airport Authority and a public interest director of the Federal Home Loan Bank of San Francisco. She is currently a member of the board of directors of the San Diego and Imperial Counties Chapter of the Red Cross.

Raised in Los Angeles, she received a Bachelor of Science degree in dental hygiene from the University of Southern California School of Dentistry, and practiced in her field for 20 years. She and her husband, David, have been married 34 years and have two children.
Joanne McNabb

Joanne McNabb is Chief of the California Office of Privacy Protection. Created by legislation in 2001, the first-in-the-nation Office is a resource and advocate on identity theft and other privacy issues. In addition to providing information and education for consumers, the Office also publishes privacy practice recommendations for business and other organizations.

McNabb is co-chair of the International Association of Privacy Professionals' Government Working Group and a member of the Privacy Advisory Committee to the U.S. Department of Homeland Security.

Before starting up the Office of Privacy Protection, McNabb had over 20 years experience in public affairs and marketing, in both the public and private sectors, including five years with an international marketing company in France. Her marketing background gives her an understanding of the commercial uses of personal information that have become a significant privacy concern.

McNabb attended Occidental College and holds a master's degree in Medieval Literature from the University of California, Davis.
---
GO TO TOP
July 5, Linda and Jay Foley - Co-Directors of the Identity Theft Resource Center
Linda and Jay receiving
2004 Crime Victim Award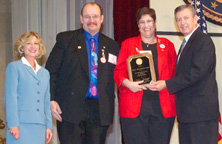 Linda Goldman-Foley
Linda Foley is the co-founder/director of the Identity Theft Resource Center (ITRC), a nation-wide nonprofit identity theft program based in San Diego, California. Established in 1999 in response to the growing need for victim assistance and public empowerment due to the epidemic rise in identity theft, today ITRC is nationally respected for its expertise and work.

As a former victim of identity theft herself, Foley is uniquely suited to understanding the complexities of this crime. ITRC supports thousands of victims through its web site, email and telephone correspondence. Foley developed and wrote the numerous comprehensive publications on ITRC's website (www.idtheftcenter.org) and used by the national office and network of trained volunteers.

Foley provides testimony and information for national and state conferences and taskforces, and remains a resource for legislators throughout the nation. Foley has appeared on numerous major television news show, several talk shows and is widely quoted by major newspapers, radio stations and magazines.

Besides her work in the community, Foley forges partnerships with companies to create better document handling procedures. She has created a workplace ID theft self-assessment inventory for use by businesses that might not want outside consultants to evaluate their company.

She has been honored as the 10Leadership Program (San Diego's ABC affiliate) Individual Leader for 2001, is a recipient of the prestigious Foundation for Improvement of Justice Award (Sept 2000), the 2004 National Crime Victim Service Award presented by U. S. Attorney General for the Department of Justice and commendations by U.S. Senator Dianne Feinstein and former CA Governor Gray Davis.


Jay Foley
Jay Foley is the co-founder/director of the Identity Theft Resource Center, a nationwide, nonprofit identity theft program located in San Diego, California. The ITRC was established in 1999 in response to the growing need for victim assistance and public empowerment caused by the explosive rise in identity theft crime rate.

As the spouse of an identity theft victim, Foley understands the practical and emotional complexities of this crime. Since 1999, he has assisted thousands of victims via email and telephone.

As ITRC's primary criminal justice contact, he has received great support and accolades from members of law enforcement across the country who frequently refer victims to him for assistance. Foley currently sits numerous law enforcement, governmental and legislative taskforces, including JAG and has testified at legislative hearings in various states and in front of Congress.

Foley is also a popular presenter and trainer. He has also appeared on many major television news shows, quoted in most major newspapers and radio stations around the country.

Jay Foley's background includes over 20 years in project management, customer service training, sales and database management. His experience in the US Navy and study for his MCSE and MCDBA certificates has proven to be invaluable in understanding the computer's role in this crime, possible solutions and in anticipating future trends.

He is a recipient of the 2004 Crime Victims Service Award presented by the U. S. Attorney General for the Department of Justice and commendations by Senator Dianne Feinstein and former CA Governor Gray Davis.
Identity Theft Resource Center
PO Box 26833, San Diego CA 92196
www.idtheftcenter.org
email:voices123@sbcglobal.net
Office Line: 858-693-7935
---
GO TO TOP
June 28, Bob Sullivan - Technology writer for MSNBC

BOB SULLIVAN is a technology writer for MSNBC who has concentrated on technology crime and consumer fraud. He is the nation's leading journalist covering identity fraud having written more than 100 articles on the subject since 1996. His work appears on several MSNBC partner sites including MSN.com, Wall Street Journal Interactive, and ZDNet.com. Sullivan also appears on air on MSNBC, CNBC, NBC Nightly News, the Today Show, and various local NBC affiliates. He is the winner of the prestigious 2002 Society of Professional Journalists Public Service Award for his series of articles about online fraud. He has spoken before trade and government groups including the National Association of Attorney Generals. He lives in Maltby, Washington with his golden retriever, Lucky.
---