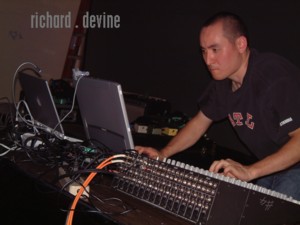 by: Pietro Da Sacco

:: TWO FLOORS OF MUSICAL MASTERS ::

With Warp Records on the bill, the turnout for the first North American tour for Warp's Nesh Session couldn't have been better.

An impeccable and high-quality range of artists from around the country and as far as the UK joined in ELM's hosting of Warp:Nesh on Saturday, August 3.

Names like Luke Vibert, Dntel, Richard Devine, DJ Ease (Nightmares on Wax), Jamie Lidell (1/2 Super_Collider), and Prefuse 73 simply could not be passed up. And when such an event makes its way through North America, when fans get together for such an enjoyable gathering, no matter that the temperature soared, it's truly an important moment in electronic music history.

At 9 PM, the music began. With two floors of beat-throbbing electrical musicalities, it was a tough deciding who to see--Luke Vibert or Richard Devine? And do you really want to make your way through hundreds of people from one end of the room, up the stairs and to the opposite end of the room--all the while trying to find a three-foot floor fan to cool you off?

While all it takes is a few people to pack this small two-floor venue in L.A.'s industrial district, with better circulation, The Mobius would be a decent better venue.




Still, it's not often you get a chance to see and hear so many talented artists creating such a bass-driven, punchy vibe that has you moving as if you were dancing on hot coals.

Jamie Lidell (1/2 Super_Collider) produced a stunning performance of danceable, yet funky lyrical grooves, including samples from Michael Jackson, and a truly inspiring show (while Luke Vibert watched in the background).
It had people laughing, dancing and clapping until an encore ensued, and he provided the crowds with a mix of funky and soulful grooves bringing smiles to faces.

Dntel, whose work on the California-based Phthalo label has generated quite a stir in the experimental electronic scene, made an impact during their appearance at Warp Nesh. Playing the guitar with the bow from a violin, and generating some smooth ambient frequencies with an accordian, Dntel pleased the audience with a thick layer of
abstract sound escapes that were thoroughly enjoyable and relaxing from start to finish.


Trying to make it to the second floor of this already overcrowded event had its benefits. While at times the frantic drummin' bass sounds of Sote (new Warp signing) throbbed through the bass bins with finesse, Luke Vibert, DJ Ease (Nightmares on Wax) and Prefuse 73 slowed down the vibe with ultra-wide beats coming to a near stop while the crowd danced and tried to make their way to the nearest room fan.




Luke Vibert's set was packed with his uniquely stripped-down beats and propelling rhythms while he sat behind
a laptop with one hand on the keyboard and the other grasping a cigarette. The hip-hop/clip-hop/d'n b grooves of the upper level seemed more like a chill-out lounge to relax in before taking on more of the head-funk vs. abstract sonic assaults of the first floor's magnetic attraction.

Chris Clark took the stage behind a pair of turntables (or were they CD-mixers?) shortly after Jamie Lidell's stellar appearance. While sorting through CDs and fiddling with a few knobs under a pair of headphones, he casually introduced the crowd with a collage of low-end frequencies and subtle snaps soon leading into a full-on experiment in
sound creation and deconstruction. His show didn't last long before Mark Bell (LFO) made his presence known and brought the avidly tuned in and rather excited crowd a hypnotic mix of techno/house behind a pair of turntables.

One of the highlights of the night had to be Richard Devine (Schematic/Warp). Bent over a folding table with a pair of warmed up and cued G4 laptops connected to an array of mangled cables, Richard Devine produced one of the night's best musical performances. At times you could just feel the energy feeding off Devine's push-button approach and
concentrated look.

The Experimental Liquor Museum, ELM Conceptions, provided continual obscure and attractive video graphics on a screen directly behind the front stage while each artist performed. This complimented each performance with a visual display of abstraction that manifested the art of music vs. visuals.

But this time around, while Richard Devine magnetically created deep basslines and some of the sharpest percussive movements, ELM's visuals couldn't have been more on target. Shards of electrical debris floating blissfully in the air while layers of flying pixilated boxes spun around the screen made for a truly entertaining experience as this talented musician from Florida etched a path through IDM, electro and ambience with relative ease. Richard Devine's encore couldn't have come at a better time, either.

While the crowd remained in a state of euphoria, no doubt anticipating the continuation of Richard's set, two minutes later sounds flowed back through the speakers and one of the most pleasantly laid out ambient pieces closed this set perfectly.

It is truly evident that Richard enjoyed playing in L.A.. His smile and sincere thank you said it all.


Three AM rolled by rather quickly while RD prepared the turntables for what proved to be an enjoyable and danceable mix of bass-driven and mind-boggling electro/IDM. Was it the Squarepusher remix that pleased the attentive crowd or his unique ability to mix tracks in such a manner that defy categorization? It was a pleasing listen even with the crowd cheering "RD, RD, RD" in the background.

Eighty-five percent of the artists featured at Warp Nesh played behind a laptop while the rest either had turntables or conventional instruments such as guitar, accordian, mixers, and mic's typically seen at a concert. While electronic-based musicians progress with the musical platforms they use to create their unique frequencies, how entertaining can it really be to watch someone punch away on a laptop? Is it something the spectators had to learn to accept?

While each concert/event gracefully adopts this direction in musical performances, it's interesting to see that audiences have learned to accept the music for the sheer quality of the sound rather than the visual display of that particular sound. Warp Nesh managed to display bits and pieces of both worlds where instruments collide with a digital platforms integrating music and high-end computer systems.

The final word? Music is the primary part of a performance. Some might disagree, but it's the magnitude and quality of the music that keeps the audience and this show made that point very clear-- audibly and visually.

Considered a success by most, Warp Nesh displayed the best in electronic music. Having sold more than 300 tickets in a venue that couldn't support so many people, the ELM curators know how to put on a great show. With Warp Records' stimulating roster of talent and the crowds of people, it won't be a surprise to see Warp Nesh make another appearance next year in North America and abroad. We'll be there to support it next time, as well.

Pietro Da Sacco (pietrobot@digitalnimbus.com)

Warp Records ::
Experimental Liquor Museum ::
Share