ABOUT KUCI TALK
KUCI is a free-form alternative not-for-profit University of California radio station broadcasting at 88.9 FM from a 200 watt transmitter at the campus of UC Irvine in Orange County, California.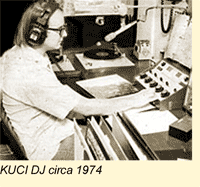 Every weekday between 8 - 10 am and 5 -6 pm, KUCI broadcasts its Public Affairs programming — KUCItalk. Dedicated to presenting the full range of views on local, state, national and international issues to an expanding community of listeners, KUCItalk's spectrum of featured guests include newsmakers, authors, comedians, actors, directors, artists, musicians, scientists and politicians. George McGovern, John Doe, Garrison Keillor, Triumph the Insult Comic Dog, Ambassador Joseph Wilson, actress Janeane Garofalo, author Anne Lamott, comedian Jon Lovitz, New York Times columnist Paul Krugman, David Lynch, Errol Morris, John Sayles, Ray Bradbury, Tippi Hedren, Ian Anderson, Merrill Markoe, Cesar Chavez, and Monty Python's Flying Circus have all been guests of KUCI.

When it received FCC approval in November 1969, the station was already a legend at the university, as illegal broadcasts had been transmitted from the dorms under the pirate station name KUCI. Since its clandestine beginning, KUCI has played outside the mainstream and into the heads of its listeners. Its one uncompromised policy is to seek out and broadcast the work of outstanding, yet unrecognized artists of every conceivable style. Today, every sound organized in time — punk, reggae, metal, world, experimental, indie, goth, classical, jazz, rock, and folk — is heard regularly on KUCI music programs.
As one of the very first radio stations to broadcast via the internet and one of the first iTune podcast stations, KUCI is alive — providing the widest array of voices and music to listeners in Orange County and the world.
As always, thanks for listening.