Protect Your Privacy in the Information Age
Now on every MONDAY morning from 8:00 AM - 8:30 AM, Pacific Time
on 88.9 FM in Irvine
and WORLDWIDE live audio streaming at www.kuci.org
KUCI/Privacy Piracy Fund Drive Donors
We want to give a special thank you to those who donated to the KUCI Fund Drive in special support of Privacy Piracy
Previous Guests
Visit our Archives for previous guest interviews
GO TO TOP
Dec 30, Bob Baier, Certified Handwriting Expert & Certified Document Examiner.

Bob is a Certified Handwriting Expert and a Certified Forensic Document Examiner having graduated from Handwriting Universities School of Forensic Document Examining. He has 3 different Degrees AS, BS, and MA. Bob is a certified NY State law enforcement instructor and trains law enforcement in 7 different areas which include document examining, Identity Theft, statement analysis, handwriting analysis, bogus checks, the criminal mind and handwriting, pedophiles and handwriting. He also trains law enforcement in many different states in the US.

Bob has been on the Television Shows "Inside Edition", "Law Talk TV" and has already been taped in Toronto, Canada for a soon to be aired special in the US on the "Smithsonian Channel" and aired in Canada, Europe and Asia on the "Discovery Channel". In Sept 2005 he was featured in ESPN magazine for an analysis he did regarding an extreme sport athlete as well as Orange Magazine in NY. Bob has spoken at National and lnt'l Conferences in Hollywood, Cal., Portland, Oregon, Washington DC, Atlanta GA, Maryland, King of Prussia, Pennsylvania, two times in Las Vegas, NV and three times in Dallas TX.

As if that were not enough, Bob is the author of the book "Identity Theft - Prevention for the College Student". This is considered to be the most comprehensive book on the market today regarding Identity Theft and his book has been used to train law enforcement in at least 4 different states. Bob's newest book GPS for Success is co authored with Steven Covey author of the book 7 Habits of Highly Effective People, Dr. John Gray author of the book Men are from Mars Women are from Venus and Les Brown nationally known speaker and author.

We are so pleased Bob could be with us today on the show.
---
GO TO TOP
Dec 24, Joanne McNabb, Director of Privacy Education & Policy, California Department of Justice Office of the Attorney General.

Joanne McNabb became Director of Privacy Education & Policy in the newly created Privacy Enforcement and Protection Unit in the California Department of Justice in 2012. The Unit protects Californians' constitutionally guaranteed right to privacy through civil enforcement of state and federal privacy laws, educates consumers and businesses, and makes recommendations to the Attorney General on privacy matters.

McNabb is a Certified Information Privacy Professional, with specializations in Government and Information Technology. She serves on the Privacy Advisory Committee to the U.S. Department of Homeland Security and is a Fellow of the Ponemon Institute, a research center on privacy, data protection and information security policy.

From 2001 until 2012, McNabb was chief of the California Office of Privacy Protection, which was a resource and advocate on privacy issues. Berore that she worked in public affairs and marketing, in both the public and private sectors, including five years with an international marketing company in France. She attended Occidental College and holds a master's degree in Medieval Literature from the University of California, Davis.
---
GO TO TOP
Dec 17, Joe Mason, One of the country's leading experts on identity theft prevention.


Joe Mason is a husband and father of two living in Haymarket, Virginia. One of the country's leading experts on identity theft prevention, he is the Senior Vice President, Consumer Services of Intersections Inc. and the general manager of IdentityGuard.com. Throughout his career, Joe has played a role in protecting the identities of well over one million Americans and is passionate about protecting children and bringing child identity theft to a halt. Prior to joining Intersections, Joe spent nearly a decade at Capital One, where he managed their identity protection offerings and helped consumers understand the importance of protecting their personal information. Joe has a B.S. from the University of Virginia and an M.B.A. from The College of William and Mary and has been featured on CNN, Fox News, ABC News, and many other regional and national media outlets.
---
GO TO TOP
Dec 10, Cliff Baker, Industry leader in healthcare privacy and security.

Industry leader in healthcare privacy and security with over 18 years of experience in the industry. Has worked with the nation's leading healthcare organizations across all sectors of the industry including developing strategic plans for a number of global and national organizations, working on multi-year complex system implementations, and assisting organizations with board level risk management decisions. Works with leading providers, health plans, and pharmaceutical related companies on a number of strategic, compliance and tactical solutions. Served as an executive advisor for key affiliations and companies to define reasonable practices that are adopted broadly across the industry.

Key qualifications include:


Supporting many clients with CMS, OIG and OCR related audits
Joint presentations with leadership at the Office for Civil Rights ("OCR")
Leading the design and development of the HITRUST Common Security Framework ("CSF")
HIMSS Security Committee member
ANSI Committee member for determining financial harm from breaches involving Protected Health Information ("PHI")
National Leader for PricewaterhouseCoopers' Healthcare Security Practice
Published author on database security
---
GO TO TOP
Dec 3, John Bruce, Chairman and CEO of Co3Systems.

John is a seasoned executive with a successful track record of building companies that deliver innovative customer solutions, particularly in security products and services. John joined Co3 upon the acquisition by Vodafone of Quickcomm, an Inc 500 international company headquartered in New York with offices in Sydney, Singapore and London. As Chairman and CEO, John oversaw all operations of the company, providing software to help corporations manage their telecoms and mobile assets. John was also the President and CEO of Authentica, a leader in the file security and management space providing software that was used by major finance, healthcare and technology companies, which was acquired by EMC. He was an original member of the executive team at Counterpane - a pioneering company in the managed security services area, acquired by British Telecom.

John's formative years were spent as an executive with Symantec, initially responsible for marketing and channel sales across Europe before relocating to California to fill a number of leadership roles.

Originally from the UK, John earned his undergraduate Honors Degree in Business and took his Masters at Bradford University. He holds a patent around document security and is a Certified Privacy Professional - CIPP/US.
---
GO TO TOP
Nov 26, Phil Robertson from LockBox.

Phil Robertson joined the Lockbox executive team in 2011 and is responsible for Business Development in North America following a successful launch in Australia. "Phil brings extensive experience and exemplary performance with both startups and major corporations to Lockbox. He has a successful history of representing and helping both national and international companies execute their sales, marketing and business development strategies." said Peter Long, CEO, Lockbox. With his career focused in Enterprise Software, Phil has a diverse background across vertical markets with high profile channel partners in Healthcare, Government, Banking and Financial along with the Entertainment and Media industries. Phil has an impeccable reputation for building and maintaining strong, solid and lasting relationships. "My goal is to always be increasing the value of company to the channel and their client." said Phil. More recently, with the race to the Cloud, security has become an imperative step in safeguarding one's assets on the Internet. The recent case of Michael Jackson's Sony's back catalogue, stolen in the Sony hack, brings to the forefront the need to assess and implement greater security requirements and Lockbox is positioned to addresses these needs.

Phil graduated from the University of California, San Diego with a degree in Economics. During his career Phil held senior positions at companies including; Harris/Lanier, GRiD Systems, Contel Business Systems, Open Directory (another Australian startup, first acquired by Platinum Technology and subsequently by Computer Associates) and iKnowledge, Inc. which was acquired by Avid.
About Lockbox
Lockbox is a cloud based client portal, collaborative workspace and file repository embedded directly in a business's website with minimal effort. Files that are too large or too sensitive to send via e-mail or other standard delivery methods are encrypted and compressed rendering the data completely private and secure yet easy to share and collaborate with other trusted third parties.
---
GO TO TOP
Nov 19, Patrick Florer and Heather Goodnight of Risk Centric Security, Inc.
Patrick Florer
Patrick Florer is the Cofounder and CTO of Risk Centric Security. He is a newly appointed Fellow of the Ponemon Institute. Patrick 32 years of IT experience, including roles in IT operations, development, and systems analysis. Patrick also has 17 years in parallel working in medical outcomes research, analysis, and the creation of evidence-based guidelines for medical treatment. From 1986 until 2010, working as an independent consultant, helping customers with strategic development, analytics, risk analysis, and decision. Patrick graduated with a BA in Classical Greek with Highest Honors in 1972 at the University of Texas at Austin; he was also elected to Phi Beta Kappa, 1971.
Heather Goodnight
Heather Goodnight is the Cofounder and President of Risk Centric Security. She is highly accomplished in Global Sales and Business Development Consultant at several companies, including: Accuvant, Whitehat Security, Tufin Technologies, and Damballa, Inc.
---
GO TO TOP
Nov 12, Perry L. Segal, one of the most prominent voices in California on the intersection of law and technology

Perry L. Segal is one of the most prominent voices in California on the intersection of law and technology. He is a licensed California Attorney, and his specialties include both Civil and Criminal Litigation, Electronic Data Discovery and Electronically Stored Information, Enterprise Management, Disaster Recovery and Compliance.

Perry has more than 20 years of experience and has worked with many large firms, including Hughes Space and Communications, Turner Broadcasting System, NBCUniversal, Sony Pictures Entertainment, 20th Century Fox and CareerBuilder.com. He consulted with the Los Angeles County District Attorney's Office "Protecting Our Kids" program, which helps parents and other concerned adults safeguard the Internet activities of young people, protects kids from online predators and prevents them from engaging in Internet crime.

He is Chair of the State Bar of California Law Practice Management and Technology Section Executive Committee (@CalBarLPMT). His four-year term runs through October 2013.

He writes periodically on e-discovery issues for California Lawyer magazine and is a guest-lecturer at USC.

His law blog, e-Discovery Insights, was selected by the American Bar Association Journal as one of the Top 100 Legal Blawgs of 2010, written by lawyers for lawyers. It also received a 2010 Top Practice Management Blog award from Paralegal.net and a Top Electronic Discovery Blog award from The Daily Reviewer.

In July 2011, e-Discovery Insights was selected by the Library of Congress for inclusion in their historical archives.

In October 2011, he was appointed to the State Bar of California Social Media Task Force and the LPMT Section was one of the first to be awarded Facebook and Twitter pages by the Bar.

He is also one of the principal authors of the treatise, "The California Guide To Growing & Managing A Law Office", slated for publication in winter 2012 by the State Bar of California.

Perry maintains both a solo law practice, Charon Law, SP and a consulting practice, Charon Solutions, Inc.

Website: http://www.thecharonshield.com
---
GO TO TOP
Nov 5, Larry Ponemon, founder of the Ponemon Institute

Dr. Ponemon is one of the most respected voices in privacy, data protection and information ethics. In 2002, he founded the Ponemon Institute, headquartered in northern Michigan, to be the preeminent research center dedicated to advancing privacy and data protection practices. Prior to founding the Institute, Dr. Ponemon was a senior partner at PricewaterhouseCoopers, where he led compliance risk management services for the worldwide firm. Dr. Ponemon has served on the Federal Trade Commission's Advisory Committee for Online Practices and currently serves as Chairman of the Council of American Survey Research Organization's Government Policy Advisory Committee.

www.ponemon.org
---
GO TO TOP
Oct 29, Frances Henderson, National Director, Privacy Initiatives, Better Business Bureaus, Inc.

Frances Henderson is National Director, Privacy Initiatives at the Council of Better Business Bureaus, the umbrella organization for the BBB system. She directs the BBB EU Safe Harbor program, an independent dispute resolution mechanism handling privacy complaints concerning transfers of personal data from the European Union to companies in the United States. She also advises the Council on national and international consumer privacy issues, including internet privacy, online behavioral advertising, and online dispute resolution. From 2009-2011, she served as a US private sector delegate to the APEC (Asia Pacific Economic Cooperation) Data Privacy SubGroup tasked with developing Cross-Border Privacy Rules for transfers of personal data among the APEC economies.

Frances joined the CBBB in 2008, following a career in private law practice. As head of the international trade practice at Sonnenschein Nath and Rosenthal LLP, she counseled US and foreign companies on international trade law and policy, regulatory compliance and technology security matters. Before settling in the United States, Frances was a Lecturer in Public Law at the University of Aberdeen in her native Scotland, where she taught courses in constitutional law and international law.

Ms. Henderson received her J.D. from the University of Minnesota Law School. She also holds an LL.M from the University of Virginia Law School, and an LL.B with Honors from the University of Glasgow, Scotland. She is a member of the District of Columbia Bar, a Certified Information Privacy Professional, and a Licensed Customs Broker.
---
GO TO TOP
Oct 22, Randy Hammon, Tax and Retirement Planning Strategist, founder of My Retirement Coach Inc.

After 11 years playing professional baseball, Randy Hammon hung up his cleats and joined a prestigious Wall Street firm. What he saw on Wall Street shocked him so deeply he walked away from a lucrative career as a stockbroker. He didn't want to be part of the misinformation process anymore.

Since then he has spent over 30 years as a tax and retirement planning strategist. He created the Safe Money System to protect individuals and families from investment strategies that put their retirement savings at risk. Throughout his career, none of his clients has ever lost a dime using his system, which he shares in his book, The Safe Money System: Uncommon Wisdom to Secure Your Retirement, Without Wall Street's Risk!

Randy has successfully translated the discipline and winning attitude he learned in professional sports into a unique coaching style. He helps individuals and families identify what things in life are most important to them so that they can make risk-free decisions to secure their financial future.

As the founder of My Retirement Coach Inc., he put together an outstanding nationwide network of endorsed retirement coaches who implement the strategies that have secured the retirement dreams of his clients for over thirty years. Randy received his business degree from Loyola University of Los Angeles, where he also did his MBA work. He lives in Laguna Niguel, California, with his wife, Crystal, and is the father of four grown sons.

http://www.thesafemoneysystem.com
---
GO TO TOP
Oct 15, Mark Schwanhausser, Director, Multichannel Financial Services, Javelin Strategy & Research

Mark heads Javelin's coverage of multichannel financial services, helping banks and credit unions profitably enable customers to monitor and manage their money more smartly through technology such as online banking, mobile banking, personal finance management tools, and financial alerts.

Mark has laid out a roadmap for how financial institutions can use technology to redefine personal banking and personal security by emphasizing personal finance management at the heart of online banking and turning mobile banking into the customer's financial "remote control." In addition, he has detailed the financial industry's exposure to bank-switching in the wake of Bank Transfer Day; what the industry must do to improve online banking, bill pay, and online account opening; spotlighted the challenges of holding private conversations in a public forum on Twitter; and identified the critical flaws of financial alerts.

Before joining Javelin in 2008, Mark worked nearly 26 years for the San Jose Mercury News, most of it as a personal finance reporter writing about money and emerging trends in financial services and payments technology. He first wrote about identity fraud in the 1990s as part of his coverage of topics of particular interest in Silicon Valley. His writing earned him awards from the ICI Education Foundation and the Certified Financial Planner Board of Standards. His work also contributed to a record eight consecutive staff awards from the Society of American Business Editors and Writers.
---
GO TO TOP
Oct 8, Thomas J. Shaw, Esq., Attorney at Law, CPA, CRISC, CIPP, CISM, ERMP, CISA, CGEIT, CCSK


Thomas J. Shaw, Esq. is an attorney based in Asia, who works with organizations in the Asia/Pacific region and globally on Information law (privacy, information security, e-discovery), Internet law (cloud computing, social networking, intellectual property, e-commerce), international transactional law, compliance, information governance, and technology risk assessment/reduction. He is the author of a new legal technology book "Cloud Computing for Lawyers and Executives-A Global Approach" and was the lead author and editor of the recently published legal technology book "Information Security and Privacy - A Practical Guide for Global Executives, Lawyers and Technologists". He writes extensively on Information and Internet law and technology and on Asia-Pacific law and is the editor of two American Bar Association periodicals: the Information Security & Privacy News and the EDDE Journal. His experience, licenses and certifications are in: law, risk, privacy, information security, internal controls, records, information systems audit, financial statement audit, IT governance, and cloud computing contracts and security. He runs CloudRisk Asia, which risk assesses organizations and cloud service providers (www.cloudriskasia.com) and a technology law practice (www.tshawlaw.com).
---
GO TO TOP
Oct 1, Stephen Echols, Victim of Criminal Identity Theft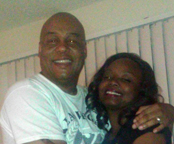 Stephen Echols was born in Lynwood, California on September 10. He never had been in trouble with the law and had attended private catholic schools. In 1981, he joined the United States Air Force as a Maintenance Data Systems Analyst. . As a Systems Analyst, his tours of duty were Lackland Air Force Base (AFB) Texas, Chanute AFB Illinois, Langley AFB Virginia, Offutt AFB Nebraska, Suwon AB Republic of South Korea, and again Langley AFB Virginia. In 1992 he was part of the downsizing effort of base closures and separated from the Air Force in 1992 with an honorable discharge. In early 1993, he was employed by the Department of Veterans Affairs, West Los Angeles VA Medical Center as a medical clerk where he worked until 1996.

In 1996, he decided to take an educational leave of absence. He then attended ITT Technical Institute in their Electronics Engineering Technology program in 1997 where he received an Associates of Science degree and graduated with highest honors in 1999. Upon graduation, he gained employment as a Field Service Technician with Securelectric Company, Inc. working at the Los Angeles International Airport (LAX). He provided maintenance and repair on their Automated Parking Control System (APCS) until the September 11, 2001 tragedy where he was laid off due to airport closures. He then decided to return to college and went back to ITT Technical institute in 2001 and completed his Bachelors of Science degree in Information Systems Security, again with highest honors, in 2004.

After college, he started working for then InVision Technologies, (now Morpho Detection Inc.) in September 2004 as a Field Service Engineer providing maintenance and repair on their Explosive Detection Systems (EDS). His primary mission was to ensure the safety and security of all passengers flying from LAX to other locations to prevent explosive devices to be carried onboard via checked luggage. He had previously learned that he was a victim of criminal identity theft by a man who had committed felonies. Stephen had dealt with the challenges, received a Judicial Clearance saying he was not the impostor who had used his identity and had committed the crimes. He then passed several background checks. After he Hought he resolved all the issues, after working for Morpho for 8 years, he was required by TSA to do another background check. The newest background check by TSA/Morpho included the felonies of the identity thief. To date, neither Morpho nor TSA will provide a copy of the false background check with the erroneous information. In March 2010 Stephen was terminated from Morpho and has been unable to obtain employment since. There is a lawsuit pending against Morpho and against TSA. TSA has refused to comply with a Freedom of Information Act Request which Stephen sent back in 2010.
---
GO TO TOP
Sep 24, Senator Joe Simitian, California State Senator, 11th State Senate District

Joe Simitian was elected to the California State Senate in November 2004 to represent the 11th State Senate District, which includes portions of San Mateo, Santa Clara and Santa Cruz counties. His public service over the years includes stints as a State Assemblymember, member of the Santa Clara County Board of Supervisors, Mayor of Palo Alto and President of the Palo Alto School Board. He has also served as an election observer/supervisor in El Salvador and Bosnia, and participated in refugee relief and resettlement efforts in Albania and Kosovo.

In the Senate, Simitian chairs the Environmental Quality Committee and serves as a member of the following committees: Budget & Fiscal Review, where he is Chair of Subcommittee #2 on Resources, Environmental Protection and Transportation; Education; Energy, Utilities & Communications; Natural Resources & Water; and Transportation & Housing.

Simitian received his Bachelor of Arts degree, with academic honors, from The Colorado College. He also holds a Master of Arts degree in International Policy Studies from Stanford University, a Master in City Planning degree from the University of California at Berkeley, and a Juris Doctor law degree from the University of California at Berkeley (Boalt Hall).

Raised in Palo Alto and a graduate of Palo Alto ("Paly") High, Simitian's roots are in the Midpeninsula. His community involvement includes service on the boards of local organizations such as American Leadership Forum - Silicon Valley, Adolescent Counseling Services and the Clara-Mateo Alliance, and he co-chairs the Silicon Valley Leadership Group's Housing Leadership Council.

Since serving in the Legislature, Simitian has been widely recognized for his commitment to service and the passion he brings to his job. He has received Legislator of the Year awards from a wide range of organizations, including the California School Boards Association, AEA (the American Electronics Association), the California Library Association and NOW (the National Organization for Women). He regularly receives "100%" environmental ratings from the California League of Conservation Voters, the Sierra Club and Vote the Coast.

The California Journal identified Simitian as among those at the "Top of the Class" during his first term in the Legislature. More recently, the Capitol Weekly identified Simitian as one of the half-dozen "Most Effective" members of the Legislature.

San Jose Magazine has repeatedly recognized him as one of the "Power 100 of Silicon Valley", and in 2003 Simitian was selected by Scientific American magazine as one of the "Scientific American 50" Leaders in Technology from around the world.

Simitian and his work have been quoted or noted in publications as diverse as the Atlantic Monthly, Conde Nast Traveller, Mother Jones, People Magazine, and Scientific American. His media appearances range from CNN to the "Dr. Phil Show", from CTV (Canadian Television) to ABC Radio National in Australia.

Simitian brings to his work a unique perspective and background - service at all levels of local government; hands-on experience in the private sector as a public schools attorney, businessman, and certified city planner; a breadth of international interests and experience; as well as professional education and training particularly applicable to his work in the Legislature.
---
GO TO TOP
Sep 17, Chris Boudreaux, Global Social Media Architect to Accenture's Fortune 100 clients

Chris Boudreaux leads global development of CRM and social business offerings for Accenture clients. He also serves as Global Social Media Architect to Accenture's Fortune 100 clients across industries. In prior work, he led business transformation programs at Fortune 100 companies, including Boeing and Bank of America. In addition, he created and led the Strategy and Measurement practice at the social media agency Converseon, where he served brands including IBM, Ford, Univision and Walmart.

His work has been featured by industry researchers and journalists including Forrester, Gartner, Harvard Business Review, and Mashable. As an active industry leader, Chris is also a governing member of the Word of Mouth Marketing Association (WOMMA), where he serves on the Member Ethics Advisory Panel.

Chris has been helping brands use social media since 2005, and he created SocialMediaGovernance.com in 2008 to help organizations improve their use of social media. He also led product development and business development teams at two early-stage start-ups in the digital media and online advertising spaces, one of which was acquired by Glam Media.

Later this year, Chris and his co-author, Susan Emerick of IBM, will publish a new book with lessons and frameworks to help large organizations empower and enable their employees in social media, with tangible business value and ROI.

Information about the book can be found at http://socialmediagovernance.com/book.


Follow Chris on Twitter
Read Chris' Blog
---
GO TO TOP
Sep 10, Andrew Serwin, Esq., Chair of the Privacy, Security & Information Management Practice of Foley & Lardner LLP


Andrew B. Serwin is the founding chair of the Privacy, Security & Information Management Practice and is a partner in the San Diego/Del Mar and Washington, D.C. offices of Foley & Lardner LLP. Mr. Serwin also serves as the chair of Recruiting for the San Diego and Del Mar offices. Mr. Serwin has handled a number of high-profile privacy and consumer protection matters, including multiple privacy enforcement matters before the Federal Trade Commission and is internationally recognized as one of the leading consumer protection and privacy lawyers.

Experience

Mr. Serwin advises a number of Fortune 500 companies regarding global privacy compliance, including state, federal and international restrictions on the use and transfer of information, behavioral advertising, social gaming, security breach compliance, mobile marketing, incident response resulting from data misuse and hacking, COPPA compliance, EHR/PHR concerns, marketing restrictions, HIPAA and state medical privacy laws, social media and blogging policies, Do-Not-Call restrictions, compliance with CAN-SPAM and state e-mail laws, employee monitoring, pretexting, location-based services, the drafting and implementation of privacy and security policies, risk assessments, compliance with ECPA and FISA, content monitoring, compliance with the CFAA and state computer crime laws, as well as data governance guidance in the context of M&A and technology transactions.

Mr. Serwin also has extensive litigation and enforcement experience, having served as lead counsel in a number of FTC matters, matters before the Office of Civil Rights, as well as state consumer protection and consumer privacy litigation matters. He is also a member of the Law Practice Management and Technology Section of the State Bar of California.

Recognitions

Mr. Serwin was named to Security Magazine's "25 Most Influential Industry Thought Leaders" for 2009 - he is the only law firm lawyer to ever receive this award, and was ranked second in the 2010 Computerworld survey of top global privacy advisors. He is recognized by Chambers USA as one of the top privacy & data security attorneys nationwide (2009-2011), where he has been described by clients as "a tireless worker, holding onto the ever-shifting puzzle pieces of the law in this area in a way that other privacy lawyers cannot." The Legal 500 recognized Mr. Serwin as a Leading Lawyer in data protection and privacy (2010-2011).

Mr. Serwin serves as executive director of the Lares Institute, a think-tank focused on privacy and information management issues, as well as general counsel of the RIM Council of the Ponemon Institute, LLC, as well as the privacy and the legal subcommittees of the PSAB of the California Health and Human Services Agency. He previously served as co-chair of the California State Bar's Cyberspace Law Committee and as a member of the Committee of Administration of Justice, as well as a member of the Publications Board for the Business Law Section of the American Bar Association.

Selected Publications

Mr. Serwin has written a number of books, including the leading treatise on privacy, "Information Security and Privacy: A Guide to International Law and Compliance," a book that was named one of Thomson-Reuters' "Best-Selling Books for 2010, and "Information Security and Privacy: A Guide to Federal and State Law and Compliance," which collectively are a three-volume, 4,000 page series that examines all aspects of privacy and security laws, published by Thomson-Reuters, which have been called "the best privacy sourcebook," "an indispensible resource for privacy professionals at all levels," and "a book that everybody in the information privacy field should have on their desk," and has been cited by Ostergren v. Cuccinelli, 615 F.3d 263 (4th Cir. 2010). He is also the author of several leading law review articles: "Privacy 3.0-The Principle of Proportionality," 42 U. Mich. J.L. Reform 869 (2009) and "Poised on the Precipice: A Critical Examination of Privacy Litigation," 25 Santa Clara Computer & High Tech. L.J. 883 (2009), cited by Hammond v. The Bank of New York Mellon Corp. 2010 WL 2643307, (S.D.N.Y., June 25, 2010), and Joseph Oat Holdings, Inc. v. RCM Digesters, Inc., 2010 WL 5065037, (3rd Cir. December 13, 2010). He has written over 100 articles and presented over 100 times on litigation and privacy.

www.foley.com
---
GO TO TOP
Sep 3, Gene Healy, Vice President, Cato Institute


Gene Healy is a vice president at the Cato Institute. His research interests include executive power and the role of the presidency, as well as federalism and overcriminalization. He is the author of 2008's The Cult of the Presidency: America's Dangerous Devotion to Executive Power, and the editor of the 2004 collection Go Directly to Jail: The Criminalization of Almost Everything. Healy has appeared on PBS's Newshour with Jim Lehrer and NPR's Talk of the Nation, and his writing has been published in the Los Angeles Times, the New York Times, the Chicago Tribune, the Legal Times, and elsewhere. He is also a weekly columnist for the Washington Examiner. Healy holds a B.A. from Georgetown University and a J.D. from the University of Chicago Law School.

www.cato.org
---
GO TO TOP
Aug 27, Thomas Martin, Private Investigator

Thomas Martin, a former Drug Enforcement Administration (DEA) supervisory agent with more than 40 years of professional experience, is president of Martin Investigative Services, Inc., a Southern California private investigation firm. The company provides full-service private investigation, corporate security services, background checks, missing person investigations and surveillance services. Martin Investigative Services operates through a network of 650 former DEA, FBI, IRS and Secret Service agents who serve all 50 states and more than 60 foreign countries.

Prior to establishing Martin Investigative Services, Inc. in 1981, Martin's position as a DEA supervisory agent (GS-14), played a major role in establishing the agency's Planning and Evaluation Group in Los Angeles and the Advanced International Drug Enforcement School in Washington, D.C. He was recognized as one of the top lecturers in the Department of Justice, profile expert and "go to guy" for all aspects of interview and interrogation practices. His insights and techniques are still used in law enforcement training programs today.

Martin is the author of If You Only Knew, which provides tips on how to avoid fraud and scams. A captivating speaker on all issues pertaining to private investigation and corporate security issues, he has been featured on CNN as well as in The New York Times, Los Angeles Times, the Washington Post, Las Vegas Review-Journal and the Orange County Register.

www.martinpi.com
---
GO TO TOP
Aug 20, Robert Ellis Smith, Journalist Who Reports on Individual's Right to Privacy

Robert Ellis Smith is a journalist who uses his training as an attorney to report on the individual's right to privacy. Since 1974, he has published Privacy Journal, a monthly newsletter on privacy in a computer age based in Providence, R.I.

Smith is a frequent speaker, writer, and Congressional witness on privacy issues and has compiled a clearinghouse of information on the subject: computer data banks, credit and medical records, the Internet, electronic surveillance, the law of privacy, and physical and psychological privacy.

From 1970 to 1973, Smith was the assistant director of the Office for Civil Rights in the U.S. Department of Health, Education, and Welfare. Prior to that, he had nine years of experience as a news reporter and editor with the Detroit Free Press, Trenton Times, The Southern Courier, and Newsday.

He has taught at Harvard College, University of Maryland, Emerson College, and Brown University.

A 1962 graduate of Harvard College, Smith received his law degree from the Georgetown University Law Center in 1976. He served as a member of the District of Columbia Human Rights Commission until 1986. In 1997, Vice President Gore named him to the Civil Liberties Panel of the White House Commission on Aviation Safety and Security. From 1996 to 2002, he served as vice chair of the Coastal Resources Management Council, which protects the 400 miles of Rhode Island coastline.

www.privacyjournal.net
---
GO TO TOP
Aug 13, Troy Timmons, Licensed Professional Counselor and Licensed Sex Offender Treatment Provider

Troy D. Timmons is a Licensed Professional Counselor and Licensed Sex Offender Treatment Provider in private practice in Amarillo, Texas. He teaches at seminars on child abuse across the United States and provides expert testimony in child sexual abuse cases. Having treated hundreds of both survivors and perpetrators of sexual abuse, he brings unique insight to the issue of preventing and responding appropriately to America's silent epidemic -- child sexual abuse. His book, "Mommy, Please Read This: The FACTS about Child Sex Abuse" is receiving generous praise for it's heart-warming expose on the heart-breaking subject of sexual abuse.

www.troytimmons.com
---
GO TO TOP
Aug 6, Michelle Dennedy, VP and Chief Privacy Officer at McAfee

Before coming to McAfee, Michelle founded The iDennedy Project, a consulting and advisory company specializing in privacy and security sensitive organizations. Michelle is also a founder and editor in chief of a new media site-TheIdentityProject.com-that was started as an advocacy and education site, currently focused on the growing crime of Child ID theft.

Michelle was the Vice President for Security & Privacy Solutions for the Oracle Corporation. Her team was responsible for evangelizing the role Oracle could play in the information strategy community as an important provider of Security solutions for business.

Before the Oracle acquisition of Sun, Michelle was Chief Data Governance Officer within the Cloud Computing division at Sun Microsystems, Inc. Michelle worked closely with Sun's business, technical and legal teams to create to the best data governance policies and processes possible for cloud computing to build trust for cloud environments through vendor transparency.

Michelle also served as Sun's Chief Privacy Officer where she was responsible for the development and implementation of Sun's data privacy policies and practices, working across Sun's business groups to drive the company's continued data privacy excellence.

Michelle has a JD from Fordham University School of Law and a BS degree with university honors from The Ohio State University. In 2009, she was awarded the Goodwin Procter-IAPP Vanguard award for lifetime achievement and the EWF - CSO Magazine Woman of Influence award for work in the privacy and security fields.

www.mcaffee.com
---
GO TO TOP
Jul 30, Anne Wallace, President of the Identity Theft Assistance Corporation

Anne Wallace is President of the Identity Theft Assistance Corporation, a nonprofit corporation that operates ITAC, the Identity Theft Assistance Center. ITAC's victim assistance service, which is free to the consumer and supported by member companies, has helped tens of thousands of consumers recover from identity theft. As the financial services industry center of expertise, ITAC and its member companies fight identity theft through identity protection and victim assistance services, law enforcement partnerships, consumer education and research.

As a nationally recognized expert on privacy, financial services and payments law, Ms. Wallace serves as a resource for the news media, Congress and academia on these issues. She advocates for identity theft victims in the national dialogue about finding solutions to one of society's most intransigent crimes. She helped develop ITAC Sentinel®, an identity management service that makes ITAC Victim AssistanceTM available to all consumers.

She began her legal career with the Board of Governors of the Federal Reserve Board where she served as Assistant Director of the Division of Consumer and Community Affairs and implemented key consumer credit laws including the Equal Credit Opportunity Act.

Previously, Ms. Wallace pioneered the financial services privacy consulting practice at KPMG Consulting. Ms. Wallace also served as legal advisor to the U S. Treasury Department's initiative to convert the federal government's paper-based collections and disbursements to electronic funds transfers.

A graduate of Boston University Law School and Fordham University, Ms. Wallace also is a member of Banking and Consumer Financial Services Committees of the American Bar Association's Business Law Section and a member of the American College of Consumer Financial Services Lawyers.

Ms. Wallace serves on the board of Opera Vivente in Baltimore.
---
GO TO TOP
Jul 23, Susan Grant, Director of Consumer Protection at the Consumer Federation of America

Susan Grant is Director of Consumer Protection at the Consumer Federation of America, a nonprofit association of some 300 nonprofit consumer groups that was established in 1968 to advance the consumer interest through research, education, and advocacy Ms. Grant works specifically in the areas of privacy, deceptive marketing, online safety and security, fraud, electronic and mobile commerce, and general consumer protection issues. She coordinates CFA's Fake Check Task Force, conducts CFA's annual Consumer Complaint Survey, and is a recognized authority on combating consumer fraud and deception. She began her career in 1976 in the Consumer Protection Division in the Northwestern Massachusetts District Attorney's Office and has worked in the consumer protection field ever since.
---
GO TO TOP
Jul 16, Bruce Schneier, Internationally Renowned Security Technologist


Bruce Schneier is an internationally renowned security technologist, called a "security guru" by The Economist. He is the author of 12 books -- including his latest best-seller Liars and Outliers: Enabling the Trust Society Needs to Survive -- as well as hundreds of articles and essays, and many more academic papers. His influential newsletter "Crypto-Gram," and his blog "Schneier on Security," are read by over 250,000 people. He has testified before Congress, is a frequent guest on television and radio, served on several government technical committees, and is regularly quoted in the press. Schneier is the Chief Security Technology Officer of BT.
---
GO TO TOP
Jul 9, Christopher Wolf, Director of Hogan Lovells' Privacy and Information Management practice group

Christopher Wolf is a director of Hogan Lovells' Privacy and Information Management practice group. Chris is widely recognized as one of the leading American practitioners in the field of privacy and data security law.

Chris has deep experience in the entire range of international, federal, and state privacy and data security laws, including financial and health information privacy laws, as well as the many sectoral and geographic regulations, such as the EU Directive and the new state data security laws including those in Massachusetts and Nevada. Chris also counsels clients on compliance with self-regulatory regimes.

In addition, drawing on nearly 30 years as a litigator, Chris represents clients in all kinds of privacy and data security litigation that results from the disclosure or exposure of private information, including through data security breaches.
---
GO TO TOP
Jul 2, Jeff Jarvis, Journalist, Author, and Blogger

In 1974 Jeff Jarvis was an undergraduate at the Medill School of Journalism at Northwestern University when he was hired by the Chicago Tribune. He was one of the first to report on the aftermath at the World Trade Center attacks, having just arrived on the last train from New Jersey as the first plane struck. Instead of running to safety, he chose to stay, talking with survivors and making notes, until he was caught up in the maelstrom of the South Tower falling. The experience was what spurred him on to his new "career" as a blogger.

Jarvis is the creator of the popular weblog BuzzMachine, which tracks developments in new media and chronicles some of the author's personal obsessions. He gained national notoriety when he wrote about his negative experiences in dealing with Dell Computer's customer support system on the website.

In 2011, Jarvis published, "Public Parts: How Sharing in the Digital Age Improves the Way We Work and Live," in which he defends the openness of the Internet, discusses ways in which the Internet has made modern life public, and argues against regulations to protect privacy.

www.BuzzMachine.com
---
GO TO TOP
Jun 25, Elizabeth Henderson, Assistant District Attorney, Orange County, CA.

Elizabeth Henderson is the Assistant District Attorney who has been supervising the Major Fraud Unit, the Real Estate Fraud Unit and the High Tech Crime Unit since March 2004. She has been a member of the Orange County District Attorney's Office since 1988 and is recognized as a strong advocate for the victims of white collar crime and a leading force in developing innovative programs to maximize use of public resources to target financial crimes and hold perpetrators accountable.

She has been an instructor at the Orange County Sheriff's Advanced Academy on the topics of homicide law. She is a member of the Orange County Financial Crimes Investigators Association and has partnered with that organization to provide quarterly free training classes to county law enforcement and bank investigators on a variety of fraud topics. She speaks regularly to community groups about identity theft, real estate fraud and investment schemes and has made a number of statewide presentations to law enforcement groups on the topic of criminal fraud.
---
GO TO TOP
Jun 18, Brian Kabateck, Nationally-recognized Expert on Consumer Protection

A nationally-recognized expert on consumer protection, Brian Kabateck has worked with the California Legislature and California Department of Insurance to draft several laws including the Policyholder's Bill of Rights and a groundbreaking law to help earthquake victims recover claims from their insurance companies.

As lead counsel for the NAACP's class action against Wells Fargo, HSBC, Citi, GMAC, Washington Mutual and other leading financial institutions for discriminatory lending practices, Mr. Kabateck recently secured a settlement in which Wells Fargo & Co. changed its banking practices to abide by the NAACP's fair lending practices. The bank will also open its books for regular audits of its lending practices and will help to fund Financial Freedom Centers throughout the country, which will facilitate financial literacy and other programs to underserved communities.

Mr. Kabateck brought the only cases for victims of the Armenian Genocide against banks and insurance companies, and is currently litigating on behalf of the families of other ethnic minorities, such as Greeks, who were victimized during the Genocide. He is also working on behalf of consumers to recover millions in unlawfully denied insurance claims resulting from recent fires, earthquakes and hurricanes.

www.kbklawyers.com
---
GO TO TOP
Jun 11, Mike Proctor, Retired Detective and One of the Nation's Leading Experts on Stalking


Mike Proctor has a reputation for getting himself in the middle of unexpected or dangerous predicaments that roll off him like, as the cliché goes, water off a duck's back. Thus the nickname.

Retired Detective Mike "Duck" Proctor has become one of the nation's leading experts on stalking. The first U.S. crime study on stalking estimated that one in 12 women and one in 45 men are stalked sometime in their life. To help combat that, as well as assist not only those who are stalked, but those that investigate them; he wrote "How to Stop a Stalker," along with articles for the California Journal of Law Enforcement and other professional publications.

Duck Works Criminal Consulting was established shortly after Proctor retired. Through this conduit he assists victims, victim advocates, law enforcement and educators both in the United States and abroad with issues concerning stalking. He has consulted for state legislators as well as advocates in other countries obtaining their new stalking laws. He regularly appears on radio and television as well as gives advice to writers involved in the main-stream print media. Mike has received the Defender of Justice Award from members of the California legislature for his work on stalking, and was recently appointed to The National Stalking Academy sponsored by the Home Secretaries Office in the United Kingdom.

www.detectivemikeproctor.com
---
GO TO TOP
Jun 4, Matthew Bailey, Lawyer Passionate About Internet Privacy


Matthew Bailey is the author of the new book, 'Complete Guide to Internet Privacy, Anonymity & Security'.

Matthew is a lawyer by training and has been passionate about Internet privacy for many years. He holds JD and MBA degrees from the University of Ottawa (Canada) and has been a registered Trade-Mark Agent. In 1998 he obtained his legal qualifications as a Barrister and Solicitor (Ontario, Canada) and in 2004 as a Solicitor (England & Wales). He has worked as a lawyer in a number of different international settings and roles, including private practice in Canada, as in-house counsel in the UK, as an international commercial lawyer in Kosovo, and currently as a Legal Officer for a Vienna-based international organization. Matthew is a member of the Law Society of Upper Canada, the Law Society of England & Wales, and the International Bar Association.

The book is complemented by a website www.cogipas.com/blog/ and a Facebook page www.facebook.com/cogipas.
---
GO TO TOP
May 28, Alexandra Natapoff, Author and Professor of Law at Loyola Law School


Alexandra Natapoff is an award-winning legal scholar and a nationally-recognized expert on criminal informants. She is Professor of Law at Loyola Law School, Los Angeles, a graduate of Yale and Stanford, and a member of the American Law Institute.

Although it is nearly invisible to the public, criminal snitching has invaded the American legal system in risky and sometimes shocking ways. Snitching is the first comprehensive analysis of this powerful and problematic practice, in which informant deals generate unreliable evidence, allow criminals to escape punishment, endanger the innocent, compromise the integrity of police work, and exacerbate tension between police and poor urban residents. Driven by dozens of real-life stories and debacles, the book exposes the social destruction that snitching can cause in high-crime African American neighborhoods, and how using criminal informants renders our entire penal process more secretive and less fair. Natapoff also uncovers the far-reaching legal, political, and cultural significance of snitching: from the war on drugs to hip hop music, from the FBI's mishandling of its murderous mafia informants to the new surge in white collar and terrorism informing. She explains how existing law functions and proposes new reforms. By delving into the secretive world of criminal informants, Snitching reveals deep and often disturbing truths about the way American justice really works.

Blog: www.snitching.org
---
GO TO TOP
May 21, Rainey Reitman, Activism Team Lead, Electronic Frontier Foundation

Rainey Reitman leads the activism team at the Electronic Frontier Foundation. Prior to joining EFF, she served as Director of Communications for the Privacy Rights Clearinghouse, a nonprofit advocacy and education organization promoting consumer privacy. She is primarily interested in the intersection between personal privacy and technology, particularly social networking privacy, locational privacy and online data brokers. Reitman earned her BA from Bard College in Multidisciplinary Studies: Creative Writing, Russian & Gender Studies.

Reitman serves as a steering committee member for the Bradley Manning Support Network, a network of individuals and organizations advocating for the release of accused WikiLeaks whistleblower Pfc. Bradley Manning. She also volunteers with several nonprofit and feminist groups.

www.eff.org
---
GO TO TOP
May 14, Hasan Elahi, Interdisciplinary Media Artist with an Emphasis on Social Implications of Media and Technology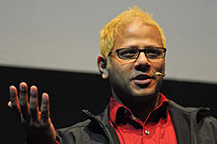 Poke around Hasan Elahi's site and you'll find more than 20,000 images stretching back three years. Elahi has documented nearly every waking hour of his life during that time. He posts copies of every debit card transaction, so you can see what he bought, where, and when. A GPS device in his pocket reports his real-time physical location on a map. Elahi's site is the perfect alibi. Or an audacious art project. Or both. The Bangladeshi-born American says the US government mistakenly listed him on its terrorist watch list - and once you're on, it's hard to get off. To convince the Feds of his innocence, Elahi has made his life an open book. Whenever they want, officials can go to his site and see where he is and what he's doing. Indeed, his server logs show hits from the Pentagon, the Secretary of Defense, and the Executive Office of the President, among others. The globe-hopping prof says his overexposed life began in 2002, when he stepped off a flight from the Netherlands and was detained at the Detroit airport. He says FBI agents later told him they'd been tipped off that he was hoarding explosives in a Florida storage unit; subsequent lie detector tests convinced them he wasn't their man. But with his frequent travel - Elahi logs more than 70,000 air miles a year exhibiting his art work and attending conferences - he figured it was only a matter of time before he got hauled in again. He might even be shipped off to Gitmo before anyone realized their mistake. The FBI agents had given him their phone number, so he decided to call before each trip; that way, they could alert the field offices. He hasn't been detained since.
---
GO TO TOP
May 7, Larry Ponemon, Founder of the Ponemon Institute, and Rick Kam, President and Co-Founder of ID Experts
Larry Ponemon

Dr. Ponemon is one of the most respected voices in privacy, data protection and information ethics. In 2002, he founded the Ponemon Institute, headquartered in northern Michigan, to be the preeminent research center dedicated to advancing privacy and data protection practices. Prior to founding the Institute, Dr. Ponemon was a senior partner at PricewaterhouseCoopers, where he led compliance risk management services for the worldwide firm. Dr. Ponemon has served on the Federal Trade Commission's Advisory Committee for Online Practices and currently serves as Chairman of the Council of American Survey Research Organization's Government Policy Advisory Committee.

www.ponemon.org
Rick Kam

Rick Kam, CIPP, is president and co-­?founder of ID Experts, the leader in comprehensive data breach solutions that deliver the most positive outcomes. The company has managed hundreds of data breach incidents, protecting millions of affected individuals, for leading healthcare organizations, corporations, financial institutions, universities and government agencies. ID Experts data breach preparedness and response services have been endorsed by the American Hospital Association. Rick is an expert in privacy and information security, with extensive experience leading organizations to address the growing problem of protecting PHI/PII and remediating privacy incidents, identity theft, and medical identity theft. Rick chairs the "PHI Project," a seminal research effort to measure financial risk and implications of data breach in healthcare, led by the American National Standards Institute (ANSI), via its Identity Theft Prevention and Identity Management Standards Panel (IDSP), in partnership with the Shared Assessments Program and the Internet Security Alliance (ISA).

For a free copy of the PHI Report go to: www.webstore.ansi.org/phi

www.idexpertscorp.com
---
GO TO TOP
Apr 30, Keith Bremer, Attorney Specializing in Right to Privacy

Keith G. Bremer has experience in all aspects of civil litigation and has had the privilege of representing auto manufacturers, auto dealerships, contractors and business owners in trial. Mr. Bremer has been a featured contributor in the Orange County Register, Business Section and has been editorialized in, among others, Newsweek, Forbes, AOL, the Los Angeles Times, Los Angeles Daily Journal, CBS, NBC, Fox, KCAL and KTLA news.

Mr. Bremer is regularly consulted by lobbyists and the insurance industry to provide input on proposed legislation in the legal field from California to Colorado. He has three published opinions ranging from right to privacy, motions for good faith and the seminal case for food poisoning.

He is a two-time recipient of Farmers Gladiator Trial Award. He is a member of the Southern California Defense Counsel and the Orange County Bar Association. Mr. Bremer is a regularly featured speaker at seminars throughout the United States.

www.bremerandwhyte.com
---
GO TO TOP
Apr 23, Ken P. Mortensen, Vice President, Assistant General Counsel & Chief Privacy Officer

Kenneth P. Mortensen is Vice President, Assistant General Counsel & Chief Privacy Officer at CVS Caremark Corporation, where he has corporate responsibility for the information governance and privacy strategy addressing operational and data management needs through an approach that protects individual privacy and assures compliance with federal, state, and local privacy laws and regulations by working with stakeholders to build a culture of privacy and security within CVS Caremark. His responsibilities include developing and implementing an information governance framework, enhancing privacy policies and training, and minimizing the impact on individual privacy while achieving corporate goals.

In 2010, Ken was elected to the board of directors for the International Association of Privacy Professionals or IAPP. Founded in 2000, the IAPP is the world's largest association of privacy professionals with more than 9,000 members in 70 countries. The IAPP helps define, support and improve the privacy profession through networking, education and certification.

Prior to re-entering the private sector, Ken served in the Administration of President George W. Bush as the Chief Privacy and Civil Liberties fficer for the U.S. Department of Justice, where he was the primary counsel and policy advisor to the Attorney General and Deputy Attorney General on privacy and civil liberties matters and created the newest independent office within the Department, the Office of Privacy & Civil Liberties. Before coming to Justice, Ken held the position of Deputy Chief Privacy Officer for the U.S. Department of Homeland Security, where his duties included strategic planning, annual budgeting, staffing and personnel management in additional to counseling on privacy and security issues.
---
GO TO TOP
Apr 16, David Bender, Privacy Attorney and Law Professor


David Bender, the author of Bender on Privacy and Data Protection, is a sole practitioner with extensive Privacy, Information Technology, and IP litigation, counseling, and transactional experience. He is also an Adjunct Professor at the University of Houston Law Center, where he teaches Privacy Law. Before retiring from White & Case in 2007, Mr. Bender headed the firm's global privacy practice. He was also a founder of White & Case's IP practice.

Mr. Bender served in-house at AT&T for ten years, during the latter half of which he was responsible for all IP litigation brought by or against any Bell System company. Before that, he spent five years engaged in antitrust litigation. And before turning to the law, he served as an engineer with the Ford Motor Company's aerospace division and as a mathematician with Hughes Aircraft.
---
GO TO TOP
Apr 2, Barry Nadell, Established Industry Expert on the Legal Issues Surrounding Employment Background Screening


For over 16 years Barry Nadell has been the established industry expert on the legal issues surrounding employment background screening and speaks nationally on the subject. He is also a respected authority on the necessity of verifying employment eligibility in the United States.

In 1994, Mr. Nadell founded InfoLink Screening Services, a leading provider of background screening services, and served as the company's president until its acquisition by Kroll, the largest risk mitigation company in the world, in March 2006. On December 31, 2007, Mr. Nadell retired from Kroll as the senior vice president of the Background Screening division after serving at Kroll since March 2006.

Mr. Nadell has been an industry advocate in both Washington and his home state of California regarding background screening legislation havening been personally involved in the writing and testifying on laws which affect background screening. He also participated on the committee for ASIS in producing their Preemployment Background Screening Guidelines and is on the committee to update the Guidelines for 2008.

Mr. Nadell is a founding member and served on the board of directors of the National Association of Professional Background Screeners (www.napbs.com), for four years until April 2008, where he was co-chairman of the board in 2006. Mr. Nadell is a licensed private investigator in California and has been an associate member of the American, California State, and Los Angeles Bar Associations, specializing in labor and employment issues. He is the author of "Sleuthing 101: Background Checks and the Law," the only book solely dedicated to the subject of background screening and the laws that govern the industry.

www.barrynadell.com
---
GO TO TOP
Apr 9, Chi Chi Wu, Staff Attorney at the National Consumer Law Center

Chi Chi Wu is a staff attorney at the National Consumer Law Center, a nonprofit focusing on marketplace justice for low-income consumers. Chi Chi is an expert on consumer credit issues ranging from credit cards to medical debt to fair credit reporting. She is the co-author of the legal manuals Fair Credit Reporting Act and Credit Discrimination, and a contributing author to Cost of Credit, Truth in Lending, and Collection Actions. Chi Chi frequently serves as a resource for policymakers and the media on consumer credit issues. Chi Chi has previously worked in the Consumer Protection Division at the Massachusetts Attorney General's office and the Asian Outreach Unit of Greater Boston Legal Services.

www.nclc.org
---
GO TO TOP
Mar 26, Joseph Weiss, an Industry Expert on Control Systems and Electronic Security of Control Systems

Joseph Weiss is an industry expert on control systems and electronic security of control systems, with more than 35 years of experience in the energy industry. Mr. Weiss spent more than 14 years at the Electric Power Research Institute (EPRI) where he led a variety of programs. He was responsible for developing many utility industry security primers and implementation guidelines. He was also the EPRI Exploratory Research lead on instrumentation, controls, and communications.

He was an invited speaker at the NIST/NSA Information Security Summit. He has provided oral and written testimony to three House subcommittees, one Senate Committee, and a formal statement for the record to another House Committee. He has also responded to numerous Government Accountability Office (GAO) information requests on cyber security and Smart Grid issues. He is an invited speaker at many industry and vendor user group security conferences, has chaired numerous panel sessions on control system security, and is often quoted throughout the industry. He has published over 60 papers on instrumentation, controls, and diagnostics including a chapter on cyber security for Electric Power Substations Engineering and the book Protecting Industrial Control Systems from Electronic Threats.

http://realtimeacs.com/
---
GO TO TOP
Mar 19, V. James DeSimone, Attorney Specializing in Defending Civil and Constitutional Rights

V. James ("Jim") DeSimone graduated from Johns Hopkins University in 1981 and earned his law degree from UCLA in 1985. Jim was admitted to practice law in California in 1985 and has dedicated his law career to providing vigorous and ethical representation and making a difference for those whose civil and constitutional rights are violated by corporations or government entities.

In 1990, he joined Ben Schonbrun to form Schonbrun & DeSimone. The firm, now Schonbrun DeSimone Seplow Harris Hoffman & Harrison represents plaintiffs in civil rights and class action cases, with an emphasis on employment discrimination and harassment and constitutional rights violations, including government and police misconduct.

The firm quickly established a niche in representing plaintiffs in sexual harassment cases in the entertainment industry. He was lead counsel for the plaintiff in the precedent setting case of Mogilefsky v. Silver Pictures, 20 Cal App. 4th 409 (1993) which was the first published California decision to recognize that same sex harassment violated the California Fair Employment & Housing Act.

In 2009, 2010, and 2011, Jim was honored by the Daily Journal as one of the Top Plaintiff Employment Lawyers in California and in 2009, 2010, 2011, and 2012, was honored to be named to Southern California Super Lawyers in civil rights and employment law.

Please visit: www.losangelesemploymentlawyer.com
---
GO TO TOP
Mar 12, Jon Mills, Dean Emeritus, Professor of Law, and Director of the Center for Governmental Responsibility


Jon Mills is Dean Emeritus, Professor of Law, and Director of Center for Governmental Responsibility at the University of Florida Fredric G. Levin College of Law. He was Dean of the Levin College of Law from 1999 to 2003.

Mr. Mills served as Speaker of the Florida House of Representatives and served in the House for ten years. He was a member of Florida's highly successful 1998 Constitution Revision Commission, and was named its most valuable member.

He has taught and made presentations at the Cambridge University, Oxford University, and the University of Warsaw among others. He has authored books, law review articles and reports on constitutional law, environmental issues, Voting Rights, and Ethics in Government. His last book "Privacy: The Lost Right" was published by Oxford University Press in 2008.

As an expert on constitutional issues, he has been quoted by the New York Times, Wall Street Journal, LA Times, Chicago Tribune, and Washington Post among others. He has appeared on CNN, National Public Radio, ABC, BBC, FOX News and other media. He also produced an Emmy winning show on the Florida Everglades.

As a lawyer, Mr. Mills has appeared in federal courts and the Florida Supreme Court on issues including voting rights, education issues, and privacy rights. His clients have included the Earnhardt family, the Versace family, First Amendment Foundation, the Everglades Foundation, Florida House of Representatives, Fair Districts Florida, and Florida Democratic Party. He is currently counsel to Boies, Schiller & Flexner, LLP.

He is a scuba diver, licensed pilot and studied karate. He is married to Beth Mills and has two daughters, Marguerite and Elizabeth.
---
GO TO TOP
Mar 5, J. J. Luna, International Consultant Specializing In Personal Privacy And Security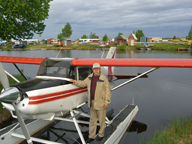 In 1959, J. J. (Jack) Luna sold his outdoor advertising business in the Upper Midwest and moved with his wife and small children to Spain's Canary Islands off the coast of West Africa. Outwardly, he was a professional writer and photographer. Secretly, he worked underground in an activity that was at that time illegal under the regime of Generalissimo Francisco Franco.

In 1970 Franco, yielding to intense pressure from the western world, moderated Spain's laws, leaving Luna free to come in from the cold. By that time, however, privacy had become an ingrained habit. In the years that followed he started up various low-profile businesses, built them up and then sold them.

Luna is the author of the book HOW TO BE INVISIBLE: The essential guide to protecting your personal privacy, your assets, and your life. He has been quoted in the Wall Street Journal, profiled in Playboy, and interviewed on the G. Gordon Liddy Show. His bestselling book e-book is Invisible Money.

He is currently an international consultant specializing in personal privacy and security.

www.howtobeinvisible.com
---
GO TO TOP
Feb 27, Sharon Bradford Franklin, Senior Counsel at the Constitution Project

Sharon Bradford Franklin is Senior Counsel at the Constitution Project, where her work focuses on the Rule of Law Program, including government secrecy and individual privacy. She works principally with the Project's bipartisan Liberty and Security Committee, seeking to protect Americans' civil liberties as well as our nation's security post-September 11th. Before joining the Constitution Project, Sharon served as Executive Director of the Washington Council of Lawyers.

Previously, Sharon spent ten years as a civil rights lawyer in the Housing & Civil Enforcement Section of the Civil Rights Division of the U.S. Department of Justice and in the Office of General Counsel at the Federal Communications Commission. A graduate of Harvard College and Yale Law School, Sharon began her legal career as a Judicial Law Clerk to the Honorable Jane R. Roth, first in the U.S. District Court for the District of Delaware and then on the U.S. Court of Appeals for the Third Circuit.
---
GO TO TOP
Feb 20, J. Trevor Hughes, President and CEO of the International Association of Privacy Professionals (IAPP)

J. Trevor Hughes is the President and CEO of the International Association of Privacy Professionals (IAPP). In this role, Hughes leads the world's largest association of privacy professionals.

Hughes is an experienced attorney in privacy, technology and marketing law. He has provided testimony before the U.S. Congress Commerce Committee, the Senate Commerce Committee, the Federal Trade Commission, the Home Affairs Committee of the British Parliament and the EU Parliament on issues of privacy, surveillance, spam and privacy-sensitive technologies. He is a member of the first class of Certified Information Privacy Professionals (CIPP) and recently completed, with co-author Reed Freeman, Privacy Law in Marketing, published by CCH.

Hughes has previously served as the executive director of the Network Advertising Initiative, a leading online privacy trade association, and the Email Sender and Provider Coalition, a trade association working on e-mail policy and practices. Prior to these roles, Hughes was director of privacy and corporate counsel for Engage, a leading online media and software company. Before that, Hughes worked as corporate counsel for UnumProvident, where he focused on legal issues associated with advertising and online insurance transactions.

Hughes is an adjunct professor of law at the University of Maine School of Law and has lectured on privacy at Harvard, MIT, the London School of Economics, Boston College Law School, Georgetown University and Northeastern University. He is a frequent speaker on privacy issues at conferences around the world.

Hughes also has significant experience as a media official at the 1994 World Cup, 1996 Olympics and the 1999 Women's World Cup. A native of Canada, Hughes holds a Bachelor of Arts degree in political science from the University of Massachusetts and a Juris Doctorate from the University of Maine School of Law.
---
GO TO TOP
Feb 13, Lester S. Rosen, Attorney and President of Employment Screening Resources

Lester S. Rosen is an attorney and President of Employment Screening Resources (www.ESRcheck.com), a national background screening company in California. He is the author of, "The Safe Hiring Manual, the first comprehensive book on employment screening. His newest book is, "The Safe Hiring Audit".

He is also a consultant, writer and frequent presenter nationwide on pre-employment screening and safe hiring issues. He has qualified and testified in the California, Florida and Arkansas Superior Courts as an expert witness on issues surrounding safe hiring and due diligence. His speaking appearances have included numerous national and statewide conferences.

Mr. Rosen was the chairperson of the steering committee that founded the National Association of Professional Background Screeners (NAPBS) , and was and served as the first co-chairman in 2004.
---
GO TO TOP
Feb 6, Jeff Carter, Chief Strategy Officer for EyeLock Corp


Samuel Jeff Carter is Chief Strategy Officer for EyeLock Corp. EyeLock is the leading iris-identity solutions company in the world. EyeLock helps governments and businesses around the world overcome the everyday challenges of identity management. EyeLock products are deployed worldwide, including at Bank of America, the Pentagon, the Mexico border with the Department of Homeland Security, the USAF, airports and many other high-security places.

Carter has spent 15 years leading revolutions in banking and technology. He is an advisor to leaders from the Federal Reserve and to emerging technology companies around the globe with a focus on identity and innovation.

American Banker named Carter as one of the industry's top innovators in its yearly ranking -ranking fourth and fifth in 2009 and 2008, respectively. He has been recognized in numerous publications for his business and technical leadership.

Carter holds several patents related to information banking and the monetization of personal information, has authored numerous articles, and is the subject of a Harvard Business School case study in 2009. His business strategy book, No-Limit: The Texas Hold 'Em Guide to Winning in Business, is available in print, audio and ebook for download on Amazon.

www.eyelock.com
---
GO TO TOP
Jan 30, Eric Sinrod, Host of Audio Podcast on Technology Law Issues

Eric J. Sinrod is a partner in the San Francisco office of Duane Morris LLP. Mr. Sinrod's trial, appellate, and overall litigation practice, which includes significant jury and court trial experience and advocacy before the United States Supreme Court, has covered a number of important Internet, software, software defect, technology, intellectual property (trademark, copyright, patent, trade secrets), information, communications, commercial, antitrust, eDiscovery, education, environmental, and insurance coverage issues. He has represented domestic and international clients in major class actions and where hundreds of millions of dollars have been at stake. He also has handled numerous matters for smaller companies and individuals. Mr. Sinrod has been highlighted by an outside publication as "the leading IP attorney in the land," and he has been selected by his peers as one of the "Best Lawyers in America" in the area of Cyber Law and annually as a "Super Lawyer" for Business Litigation. Mr. Sinrod has a reputation for being immediately responsive to clients and working efficiently and within budgets. He is considered a thought-leader on electronic discovery issues, which can lead to great cost savings for clients. While Mr. Sinrod is creative in coming up with solutions to resolve disputes, he will fight strategically when that is in the best interests of clients.

Mr. Sinrod is one of the hosts of TechLaw10, a 10-minute audio podcast update on technology law issues. His work has been profiled in The New York Times, The Wall Street Journal, The Washington Post, USA Today, Time.com, Bloomberg News, Trials Digest, The Wall Street Reporter Magazine, Fox News, The Supreme Court of the United States Blog, CFO Magazine, National Law Journal, Wired.com, Computer World, Cyber Esq. Magazine, Business Insurance Magazine, The ABA Journal, The American Lawyer, The California Lawyer, The Privacy Journal, Intellectual Property Counselor, Career Education Review, The Minnesota Star Tribune, Counsel to Counsel, Lawyers Weekly, Lawyers USA, The Recorder, The Daily Journal, Security Management Magazine, Compliance Week, Investor Relations, IPFrontline.com, Business Credit magazine, SCMagazineus.com, The Village Voice, Corporate Counsel's Records Retention Report, The East Bay Business Times, Law360, TechPulse360, ROBTV, Newsday, Creditline, SlashDot and Japanese public television. Mondaq has announced that one of Mr. Sinrod's columns was the most popular article in the United States in the month that it was published. Mr. Sinrod writes weekly legal columns for Findlaw.com, and his columns also have been published by CNET News.com, USAToday.com, Law.com, Computerworld.com, CNN.com, MSN.com, AllThingsDigital.com and Silicon.com and he has been a regular guest speaker covering legal issues for LAWCAST, the Legal Talk Network, Tech TV, KNX CBS Radio, Live Online News and CNET Radio.

Sampling of Weekly Blogs on Fast-Breaking Internet Legal Developments for Findlaw.com - January 1, 2010-Present

Website Search Results for Legal Columns by Eric Sinrod

Mr. Sinrod has been an adjunct professor of law and has published many law review and other journal articles. He is a frequent speaker on Internet, intellectual property, information and communications issues. He has been an advisor to the Cyberspace Law Seminar at Hastings College of the Law, has taught an Information Law Seminar at Golden Gate University School of Law, and teaches a Business Media class at Ex'pression Center for New Media. Mr. Sinrod is a member of the Board of Directors for the Computer Law Association, the Editorial Board of the Journal of Internet Law, the ABA Internet Industry Committee, the Board of Advisors for the Start-Up and Emerging Companies Newsletter for American Lawyer Media, the Advisory Board for the BNA Electronic Commerce & Law Report, and the Executive Committee of the Law Practice Management & Technology Section of the State Bar of California. Mr. Sinrod's videos discussing the intersection of law and technology have been featured on YouTube and Google Video.

Mr. Sinrod was a judicial clerk for the Honorable Samuel Conti, Judge of the United States District Court for the Northern District of California. He served as lead trial attorney in a number of jury trials as a Special Deputy District Attorney for the Marin County District Attorney's Office. Mr. Sinrod has been an appellate and trial moot court judge at Boalt Hall and other law schools.

Mr. Sinrod is admitted to practice law in the United States Supreme Court, a number of other federal courts and all California courts.
---
GO TO TOP
Jan 23, Malcom Crompton, Managing Director of Information Integrity Solutions Pty Ltd
Malcolm Crompton is Managing Director of Information Integrity Solutions Pty Ltd, providing high-level advice to private sector and public sector organizations on building trust through excellent data governance, particularly in their collection and use of personal information. He is also Director of Bellberry Limited, a private not-for-profit organization that provides health ethics committee services in accordance with the National Health and Medical Research Council Statement on Ethical Conduct in Research Involving Humans and is the Asia Pacific based Director of the International Association of Privacy Professionals (IAPP). He recently led the establishment of the Australia New Zealand affiliate of IAPP and was its foundation President.

He was Australia's Privacy Commissioner for five years until April 2004. He led the implementation of private sector privacy law that commenced in 2001. He has established a global reputation for his forward thinking on the handling and governance of personal information and has been the invited speaker at many events in North America, Europe and Asia as well as Australia.

www.iispartners.com
---
GO TO TOP
Jan 16, Mike Applebaum, physician, attorney and advocate for patients and children.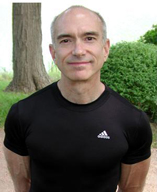 Dr. Mike Applebaum is a physician, attorney and advocate for patients and children.

Trained originally in general surgery, he transitioned into diagnostic radiology and limits his imaging practice to diagnostic ultrasound. He is Director of The Anabolic ClinicSM and President of FitnessMed, Inc., a fitness consulting firm to individuals and businesses.

Known as the Fitness Doc, he firmly believes that "Fitness is the only REAL preventive medicine"TM available to all, that the sick care system is oversold to consumers and that much of what the public hears distracts them from what is necessary to really achieve good health.

www.AnabolicClinic.com
---
GO TO TOP
Jan 9, Debbie Laskey, Brand Marketing and Social Media Consultant

Debbie Laskey has 15 years of marketing experience and an MBA Degree. She developed her diverse marketing expertise while working in the high-tech industry, the Consumer Marketing Department at Disneyland Paris in France, the non-profit arena, and the insurance industry. Currently, Debbie is a brand marketing and social media consultant to small businesses, start-ups, and non-profits in Southern California. She has been recognized as a "Woman Making a Difference" by the Los Angeles Business Journal and also served as a mentor for the Strategic Technology Program sponsored by the California TeleMedicine & eHealth Center. Since 2002, Debbie has served as a judge for the Web Marketing Association's annual web award competition. Follow Debbie on Twitter (http://www.twitter.com/DebbieLaskeyMBA) and on her Blog (http://debbielaskey.blogspot.com). Her website is www.marketingandmore.net.
---
GO TO TOP
Jan 2, Evan Hendricks, Editor/Publisher and Founder of Privacy Times


Since 1981, Evan Hendricks has been Editor/Publisher and founder of Privacy Times, a newsletter based in the Washington, D.C. area. Through the newsletter alone, he has published nearly 3,000 pages covering a wide range of privacy and information law subjects, including the Fair Credit Reporting Act.

Mr. Hendricks regularly testifies before Congress, with four appearances in 2003. He is a regular presenter at Federal Trade Commission workshops. He has been qualified by the courts as an expert witness in FCRA and identity theft cases. Mr. Hendricks has served as a consultant on privacy issues to federal and state governmental organizations, and businesses. He has been a featured American presenter at events in Paris, France, Venice, Italy, Cardiff Wales, London, England and Ottawa, Ontario. He is regularly quoted in the mainstream media and trade press.

Mr. Hendricks has a Bachelor of Arts from Columbia College, Columbia University. He attended there after transferring from University of Oregon.

www.privacytimes.com
---